In a conference call with reporters yesterday, Jane Lynch shared her thoughts on both the Super Bowl and the Super Bowl episode of Glee:
She doesn't care who wins the former and the latter will be akin to an installment of the show "on steroids."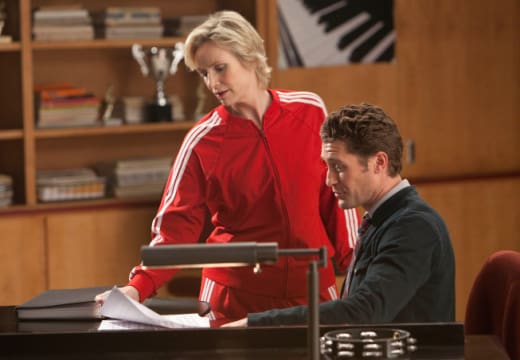 But it was the actress' response to what viewers can expect from Sue later this season that truly got our attention. Lynch told us:
"Sue suffers a devastating loss with her Cheerios and she becomes very, very depressed - she becomes dangerously depressed, where she's more violent than usual. They get her to join the glee club to lift her spirits... I'm actually in the glee club for a while."
Talk about something we need to see and hear! Below, meanwhile, we've posted two more clips from Sunday's new installment. Take it away, Blaine and Rachel!
Matt Richenthal is the Editor in Chief of TV Fanatic. Follow him on Twitter and on Google+.