There are times when I feel so blessed and privileged to review, for so many readers, a show as fabulous as Fringe. There are other times when I wish I could just snuggle in and think about what I just saw, absorb and deliver to you something so insightful it will blow your minds.
This was the latter. "6B" is an episode so full of subtle nuances that only someone with a deep understanding of quantum theory should be attempting to bring sense to the writer's intent.
Turns out you're going to get my take, that comes with my limited understanding of physics, but hopefully more understanding of, as Walter calls them, quantum entanglements.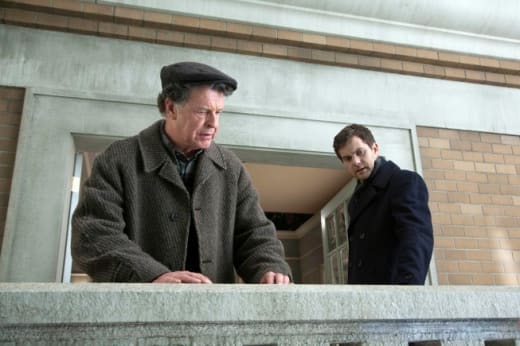 The entirety of "6B" was to show us how integral to the universes are the lives and loves inside them. We have learned so little in these years about what makes these universes unique. Who knows if we will ever understand how just remarkably similar they seem to be. We do know that the love of a father after the death of his son was what made Walter cross universes to save Walternate's son from the same fate.
Love and interpersonal alliances are intrinsic between the universes. Whether this is because of what happened when Walter took Peter, or if it was always the case, is another unknown.
It's similar to the chicken and egg scenario. What happened, happened, and how or whether it had an effect that would have otherwise never have occurred will remain concealed.
So here we are, suffering with all of our protagonists. Olivia struggling to let go of her visions of Peter and Olivia; she wants what he wants.
She has always wanted him, but when she gives in to a kiss, Peter glimmers. Peter is tormented by the fact the life he thought he had finally found with the woman he wanted was played out with another lead. I can't even imagine what Fauxlivia must be feeling at this point, literally a universe away from the quagmire, with only Walternate to talk to. Our Olivia came to life tonight, if only for minutes, before her glimmering kiss with Peter. She smiled, laughed, admitted to enjoying Barry White. Olivia thinks she is incapable of being vulnerable, that she can't fix what she has become and that being terrified she will not be able to get past this heartache.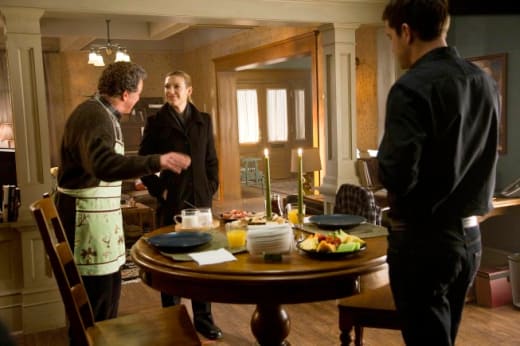 In 6B lives a woman who has recently lost her husband. His projection from the other side is coming to her in the form of a ghost. Olivia speculates that they both lost their lifelong loves in the same manner, and their deep grief is causing a soft spot between the universes. She and Peter have to try to convince her that the man is not her husband. Can you imagine telling an old woman that the man, looking exactly like her deceased husband is not a ghost, but a double from an alternate universe? Thankfully, her "husband" says their girls miss her, and she realizes it is true, as they never had children.
In a very convoluted and yet somehow ridiculously simple way, watching this woman come to terms with her loss and her ability to understand the concept of alternative universes, heals a part of Olivia. If someone with as much knowledge and experience as she has with the situation cannot come to terms with it and let it go as something that she cannot change, even if she so dearly wants to, then it really is her stopping her own progression with Peter.
Before Olivia was trapped in the alternate universe, she and Peter had never shared a romantic moment. They thought about it, everyone thought it would happen, but until Fauxlivia took the reins, it was simply a supposition. Tonight, Olivia puts her fears aside, and takes advantage of Fauxlivia making the first, most difficult moves. It almost makes it easier for her to jump right into the conflict that has become her connection to Peter. Olivia tosses her anxiety aside and shows up with a bottle to visit Peter. They barely manage a drink before Olivia grabs Peter's hand and walks him upstairs. She is ready, and by next week need not feel so left behind. She and Peter have accessed the same plane that he visited with Fauxlivia but, this time, he is with the woman he always thought he had been.
This brings an exciting new dimension to their threesome, and if the actions on our side have immediate and relevant reactions on the other side, we are in for some very interesting developments to come.
Carissa Pavlica is the managing editor and a staff writer and critic for TV Fanatic. She's a member of the Critic's Choice Association, enjoys mentoring writers, cats, and passionately discussing the nuances of television and film. Follow her on Twitter and email her here at TV Fanatic.