CSI Review: "All That Cremains"
at . Comments
It's hard to go wrong when an episode of CSI starts with a head in a box. From there, "All That Cremains" proved to be a fairly interesting story.
The plot centered on the chopped-up remains of a man that were found packed among various boxes donated to a thrift store. The added oddity that the victim actually died while choking on the cremated remains of his wife made for an even more intriguing angle, with a final twist that the daughter was actually the killer.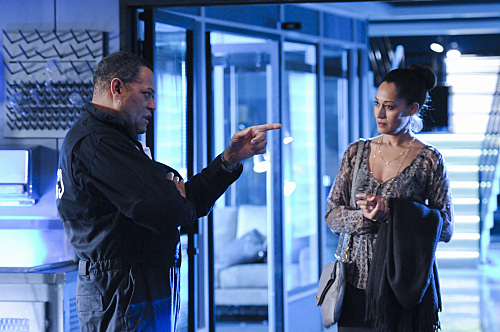 I figured out it was the daughter fairly easily. It was disappointing to be able to piece the mystery together before the CSIs made their final conclusions, but still well worth it for the very creepy performance of Madison Davenport as the victim's daughter, Camryn.

When I went back over some of the details of the crime after the daughter confessed, the precision, brutality, and apparent ease with which the murder was carried out made Camryn seem even more disturbed.

Regarding the body parts, I understand that due to the primetime slot the severed limbs can't look overwhelmingly realistic, but the head and foot from the opening scene looked like props from a Halloween store.

Elsewhere, Katee Sackoff returned as Detective Frankie Reed. The character has a real presence on the show and even when she seems under utilized, there is no ignoring the weight she adds to every scene. I want Reed to remain a staple on the series so that more can be revealed about her.

She seems to have really great chemistry with Nick. And as much as I'd like to see Nick involved in a little romance, I'm hoping the interaction between these two doesn't automatically jump to a love affair. Not everyone needs to be in an interoffice romance.

Ray's ex-wife was introduced in this episode. Langston's reluctance to correct his co-workers about his relationship seemed a little odd to me. I understand that, despite being divorced for two years, he was still holding on to what he considered the best part of his life, but the way it played out was a bit contrived. It was as if the writers wanted the audience to question if Ray was actually single, even in light of the overwhelming body language and emotion that made it very apparent that he was.

What did everyone else think of the episode?

Tags: CSI, Reviews