In the famous words of Randy Jackson, this was just aight for me. 
While I was pleased with all three storylines, there weren't enough moments cracking me up to make "Double-Edged Sword" a classic installment of 30 Rock.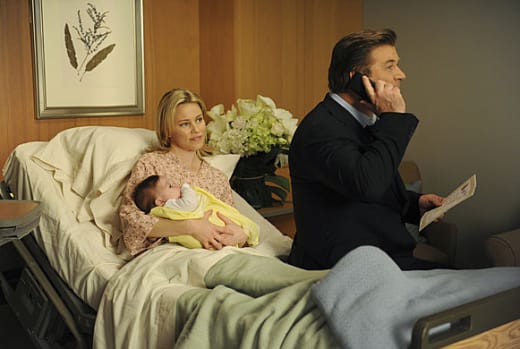 Matt Damon, of course, knocked it his part out of the park. In what I assume is his final appearance on the show, Damon proved once again how hilarious he can be. Maybe I'm just a guy that enjoys airplane humor, but Carol continuing to make his passengers wait "a half an hour!" got me every time. 
From claiming that opening potato chip bags at sea level will kill people, to explaining that all it takes to fly a plane is pressing take off, auto pilot, and land, the Carol and Liz plot was definitely my favorite of the night.
Although the double-edged sword of Liz and Carol's relationship proved to be too sharp on one end, Jack and Avery's appeared to be okay.  As they worked through their gigantic problem of their baby not being able to grow up to be President, there were plenty of Canadian jokes to go around. Can't ever argue with those.
Having a man named Lorne in a rolling meth lab pick them up on their way across the border was the icing on the cake.
And, surprisingly, Tracy's plot was my least favorite. I'm glad that he finally got his EGOT, but just like he didn't enjoy making that step to the next level, I didn't enjoy watching it go down all that much. It really was just Tracy being miserable without enough crazy antics to make up for that somber mood.
Now, as always, the best 30 Rock quotes of the evening:
Kenneth: You don't know the meaning of the word scared. And I know 'cause I've looked it up for you a dozen times. | permalink
Carol: You wanna know a little pilot secret, besides the fact we get a discount a Sunglass Hut? | permalink
Pete: You ever hear of the Peter Principle?
Tracy: Yes! Just now. | permalink
Carol: I will waste you!
Liz: You'll have to go through this old bastard first. | permalink
Jack: I never sleep on planes. I don't wanna get "incepted." | permalink
Dan Forcella is a TV Fanatic Staff Writer. Follow him on Twitter.