The Mentalist returned this week with "Bloodhounds," an episode filled with Jane's antics and one giant Rottweiler but, sadly, no actual Bloodhounds. 
At least we got to hear Jane and Lisbon rhyme as though they had stumbled upon the murder of Dr. Seuss.  They just couldn't seem to stop themselves. One of the highlights of The Mentalist for me is the banter between these two.  I only wish "Bloodhounds" had more of it.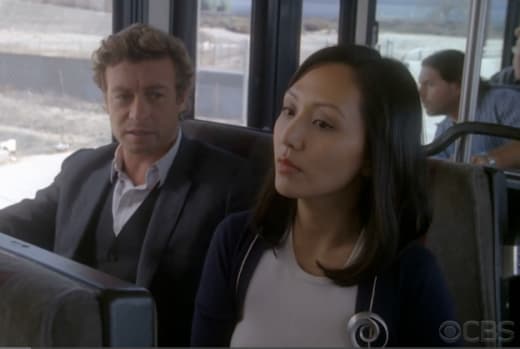 Now, what did Jane do with Lisbon's couch and why?  Any ideas?  I love how Lisbon just shakes her head and gives a resigned sigh as she wonders what the heck happened to her sofa.
And why was Jane asking everyone if they knit?  The question was amusing because there seemed to be no rhyme or reason to it.  It's great how he asks Lisbon, but doesn't wait for her to answer and answers it himself: "No, of course not.  You grew up surrounded by boys."
Dr. Montague was an interesting distraction, but a distraction nevertheless.  I prefer it when our CBI team works together without outsiders and I felt Montague's presence just replaced what would have been scenes with Jane and Lisbon.  Perhaps they just needed someone to play Jane's foil, considering Lisbon knows most of his tricks.
The conflict between Cho and Rigsby was practically brushed aside.  Cho is obviously still ticked about having to lie to investigators to save Rigsby's career while simultaneously putting his own in jeopardy.  Rigsby tries to discuss it once.  He comes off whiny and immature and then they are interrupted. 
At the end, Cho hands him a soda and all is right with the world again.  I'm not buying it.  I suppose Cho has to get over it if they are going to work together, but this was a serious issue and I'm hoping it comes back again before the end of the season.
It looks like we've got another week with no new episode.  Ugh.  But that does give us plenty of time to discuss this one so feel free to share your thoughts:  Did you enjoy Dr. Montague?  Have you had enough of the Cho / Rigsby story?  Can you imagine Lisbon rapping?
C. Orlando is a TV Fanatic Staff Writer. Follow her on Twitter.