One of the best cop shows on TV is finally back. 
I wasn't a huge fan of the first season of Southland on NBC, but TNT certainly knows how to kick up the drama.  The series came back for season three this week with its best premiere to date, "Let It Snow."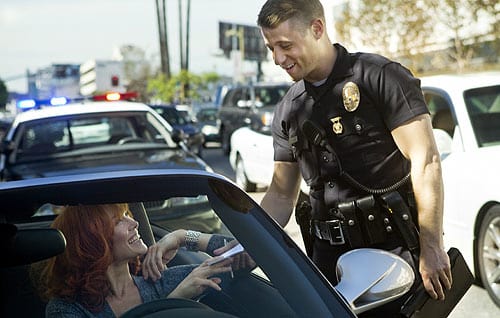 Southland shoots for realism and it's the little moments that get me every time. To wit: John deducing that the missing woman never left the building because her purse was still in her locker. 
It's so simple yet has huge significance to their case and could have easily been overlooked.  No woman brings her purse to work and leaves it behind.  That's when I had the sick feeling we were going to find a body instead of a live victim.
I flinched when Lydia found the dead women in the ceiling, even though I knew she'd be there. But I wasn't alone: Lydia flinched, too.  You don't see a lot of cops do that on TV, as the human reaction was well played.  So was the camera work.  The way the body came into focus with the flashlight reflecting off of her duct-taped face was chilling.
Lydia and her new partner, Detective Josie Ochoa, are a great pairing.  They're both strong, opinionated, capable women, but their distinct differences are bound to make waves. 
Josie plays friendly good cop where Lydia gets in someone's face.  Lydia gives the victims hope where Josie sees hope as a liability.  Their unique dynamic is going to be a lot of fun to watch this season.
When John ordered the officers to take their bulletproof vests off during the shootout I was shocked.  Why take your vests off while someone is shooting at you?  I couldn't figure it out until I saw it.  As they draped their vests over one side of the police car and used it as a shield to rescue a fallen officer, I couldn't decide if it was genius or recklessness.  Either way, it made for one heck of a scene.
So, how long do you think Ben will cover for John and his back pain/medication issues?  Will Russell ever come off of desk duty and, if not, what role does that leave for him this season?  And how many "last" cigarettes do you think Tammy will have now that she's pregnant? 
TNT has brought the drama of Southland back and I couldn't be happier. How about you?
C. Orlando is a TV Fanatic Staff Writer. Follow her on Twitter.