For those of us familiar with memorable Grey's Anatomy music selections from the past six-plus seasons, the show's musical episode is sure to bring back fond memories.
The episode will feature songs made popular by the series, like The Fray's "How to Save a Life" and Snow Patrol's "Chasing Cars," both featured prominently in Season 2.
Kevin McKidd reveals that he's involved in both of those numbers, as well as singing Gomez's "How We Operate," from "Deterioration of the Fight or Flight Response."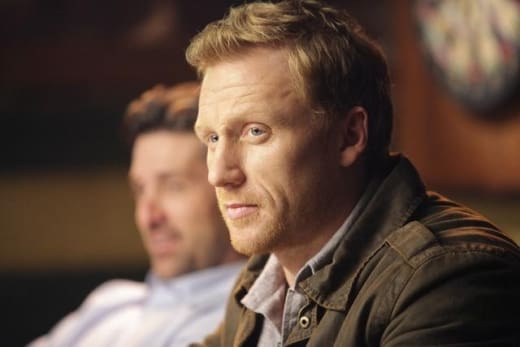 "We're in the studio right now," McKidd says. "I did my recording [Wednesday]. I've got quite a big couple of numbers. It's a one-off episode in Callie's point of view."
"It's very dramatic. It's a very intense episode. No jazz hands and glitter balls."
While fans have been nervous that the show may be jumping the shark by doing a musical episode, the actor insists that it's really more "a love letter to the fans."
"It's very exciting and experimental. I think it's great that the show took such a bold move to do something like this, and I think it's going to work in a big way."
Grey's Anatomy returns next Thursday, February 3. What do you think of the idea of a musical episode? Shark-jumping or a fun tribute to GA fans?
Steve Marsi is the Managing Editor of TV Fanatic. Follow him on Google+ or email him here.