He made most viewers laugh and most presenters uncomfortable. But did Ricky Gervais go too far as host of Sunday's Golden Globes?
Philip Berk, the president of the Hollywood Foreign Press Association, certainly thinks so.
Berk, who was painted a senile fool in one joke by the comedian, told The Hollywood Reporter of Gervais' performance: "He definitely crossed the line. Some of the things were totally unacceptable. But that's Ricky."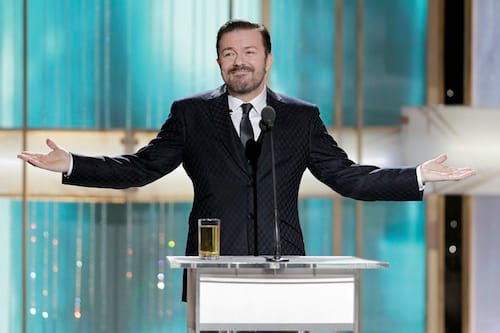 It's safe to assume Gervais won't return next year as host, not that he cares or would have expected to.
"Any of the references to individuals is certainly not something the Hollywood Foreign Press condones," Berk said.
But were they something you laughed at? Do you think Gervais acted inappropriately?
Matt Richenthal is the Editor in Chief of TV Fanatic. Follow him on Twitter and on Google+.