Desperate Housewives Review: Haven't We Seen This Before?
Hillary Malone at .
The title of this week's Desperate Housewives episode was apt: "Where do I Belong."
My answer, after a disappointing hour that featured a number of zany, redundant storylines? Not on Wisteria Lane.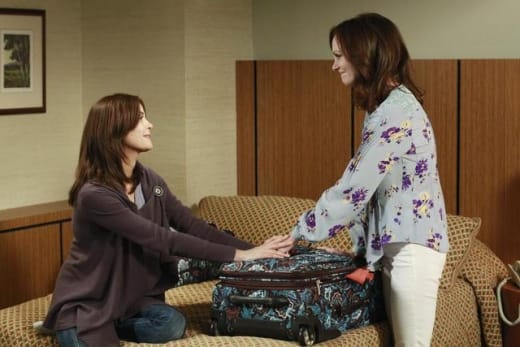 [Photo: ABC]
The installment did not change my pessimistic outlook on this season to date.  It seems these characters are getting worse and worse as the episodes progress. As a Desperate fan from the series premiere, I can't say I didn't see the momentum eventually dying, but I'm still let down by it.
Overall, doesn't it seem that everything covered this week has been done before?  We see the same old betrayals; in marriage, by neighbors, and by family members.  Quite frankly, I'm bored.
Let's face it, there weren't even any clever one-liners this week to keep viewers entertained, and the only "touching" moments that were featured involved Gaby and a creepy doll replacement for her long lost daughter. 
On that subject: what is with this doll shop owner?!?  What a loon! This woman creates stories about her dolls and treats them as if they are human.  Sounds more like something that should be featured on a Lifetime Movie of the Week, not on primetime television.
The creative writing team is clearly out to lunch. What happened to a five-year flash forward?  That was actually an interesting idea.  I'd even take a flashback or two, or maybe a reunion of sorts with some of the old cast members.  A dream sequence would provide more stimulation than the current plot.
Perhaps the Housewives should hit the dusty trail and take a vacation together to strum up some new found drama. DH goes to Bermuda?  Why not?  At least we wouldn't be watching stale storylines in front of the same perfectly groomed rose bushes each week. 
I'll try to end on a positive note: let's hope Crazy Paul's son creates some newfound drama. Is he around to get Paul? To go after Beth? Mike? I just hope I'm not left bitter by the outcome.