The 90210 writers didn't try very hard to give us contrasting storylines this week, did they?
On "Liars," we watched as Adrianna faked PTSD, and then as Ivy actually suffered through it. We also saw Navid unable to end his relationship with Adrianna due to the current state of her life... and Annie unable to end her relationship with Charlie due to the current state of Liam's life.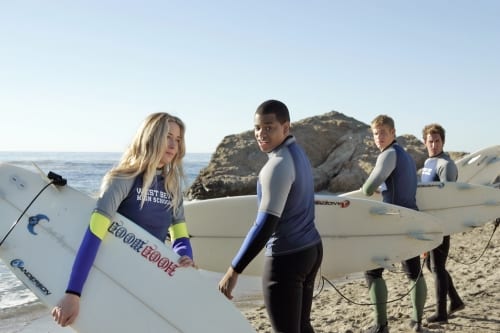 Did anyone else experience a feeling of deja vu when they watched the conversation between Annie and Liam at the Beach Club?
It wasn't just that this development so closely resembles the triangle between Navid, Adrianna and Silver; it's that 90210 is in serious danger of permanently angering all Lannie fans. You can only tease a relationship so many times before viewers simply get annoyed at the obstacles being thrown in between a pairing.
Has the show reached that point with Annie and Liam? Are you still exciting over the possibility of these two as a couple, or just irritated at the constant oscillating of their status?
As I have been throughout the season, I was impressed with the way the show continued to slow play Teddy's evolution. I just wish Teddy Donovan hadn't basically told us exactly how this
would all play out
.
At first it seemed a little silly that Dixon would actually hesitate to take his wet suit off in front of his friend, but then I remembered this character hails from Kansas. That's a far more conservative region than Beverly Hills. It's possible that Teddy is the first gay person Dixon has ever knowingly been around, which would make for an interesting angle in this storyline.
Moving on to Naomi and Mr. Cannon, I'm just praying this plot is finally over. I don't mind the way it concluded, but I don't understand why the same ending couldn't have taken place weeks ago. Why have Cannon go away for multiple episodes, then return (slipping under police radar somehow, despite being in the home of the girl he raped) and then have such a confrontation? Why not just have everything play out this same way, minus the weeks-long disappearance, for the sake of continuity and logic?
Let's also hope we never have to see AnnaLynne McCord act hysterical or scared ever again. I had to hold my eyeballs in place to prevent them from rolling at the sight of her attempts to do so here.
Finally, we get to my favorite part of the episode: cousin Emily! I'm really curious if producers purposely cast a Jennie Garth-lookalike with Abbie Cobb. Because it just adds to the overall creepiness factor, doesn't it? Granted, we saw this exact, Single White Female-like scenario play out on the original 90210, when that Tara girl Kelly befriended in rehab and then went on to cut and dye her hair and almost commit a murder/suicide.
But I sort of like it if 90210 is just straight up paying homage to its predecessor now. Remember when Dylan got injured surfing years ago? And he hooked up with Brenda while being nursed back to health in Brandon's room? Does that sound similar to any recent events on the new version?
I'll leave you with a few questions to debate: Do you feel badly for Adrianna at all? Which hunk did you miss more: Ryan or Oscar? Were you happy with the resolution to the issue of Mr. Cannon?
Matt Richenthal is the Editor in Chief of TV Fanatic. Follow him on Twitter and on Google+.