It's to the overall credit of The Vampire Diaries that an episode which concluded with a deal between Elijah and Elena; a deception by Luca; and a mysterious werewolf bite on Rose would still feel like a letdown.
Guess that's what happens a thrilling series raises one's expectations each week, leading me to believe that "By the Light of the Moon" - the final episode until January 27 - would wrap up with the most shocking twist in weeks.
Instead, viewers were treated to a couple mild turns, but nothing that caused my jaw to drop open, let alone hit the floor.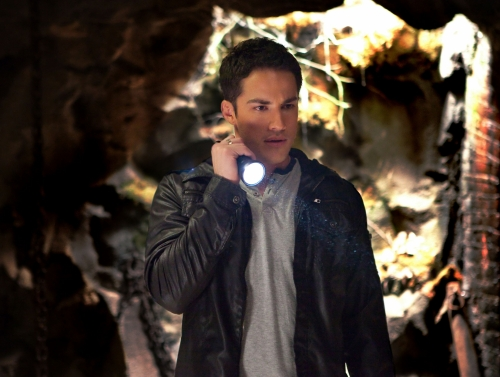 Part of the problem involves the storylines I summarized above. Look at them again. With the exception of Elena's role in the agreement with Elijah, they all centered around people we really just met.
The show has mostly integrated Luca, Rose, Jonas, Elijah and, now, Jules in a seamless fashion - but where was the Delena drama? The Statherine sex promos so coldly
misled us to believe
would take place? I'd have preferred to have seen a lot more with the main characters we've been following since the outset.
Instead, Elena was trapped inside her house, Damon mostly chatted up Jules at the bar, Stefan just hung out in the tomb, Jeremy listened to some music and Bonnie was duped by Luca. Not exactly the most action-packed episode for these characters, was it?
Full props, however, must be given to Michael Trevino, and, really, everyone involved in that transformation scene. It was intense and agonizing to watch... in the best possible way. Still, I'm left wondering: that was it? Nothing actually came of this transition. It had been built up for weeks, it went down in a tremendously-filmed/producer/acted manner and it will likely lead to Caroline and Tyler growing a lot closer.
Suspense-wise, though, it didn't leave me anxious for what will happen next. It was exactly what they had hyped it up to be, whereas I expected a surprise or a development outside of Tyler simply screaming, turning and then turning back again.
Of course, this is The Vampire Diaries, so there were plenty of questions that fans will be pondering for awhile in our Vampire Diaries forum. To wit:
Can we trust Elijah?
Why did he kill Slater?
Did he order Jonas to maintain the curse on the moonstone? Or might that warlock be acting alone now?
How awesome a friend is Rose?!?
Damon has been "marked." What does that mean?
Who was Jules talking to on the phone when she said Tyler was a werewolf?
On a typical week, I'd have given "By the Light of the Moon" a higher rating. But my hopes were definitely raised, considering this was the 2010 finale. As a result, I'm left feeling more disappointed by the show than I have been so far this season. What did everyone else think?

Matt Richenthal is the Editor in Chief of TV Fanatic. Follow him on Twitter and on Google+.

Tags: The Vampire Diaries, Reviews
Want more The Vampire Diaries?
Sign up for our daily newsletter and receive the latest tv news delivered to your inbox for free!
More From TV Fanatic

This week on The Last Ship, Danny gets sick and the crew begins to panic. Is it the virus? Meanwhile, Rachel's vaccine trials continue to fail.

Who was able to successfully problem solve on The Rachael Ray Show this week? Find out now in our review of Food Network Star.

The Masons are reunited on Falling Skies Season 4 Episode 6. Will it be a happy or contentious reunion?

What took place on The Real Housewives of New Jersey Review this week? Read our rundown to find out!
---