I can understand why most people would enjoy "Abed's Uncontrollable Christmas," especially this time of year.  But I didn't find it all that amusing. Creative, sure... but only passively entertaining.
There were a handful of comedic lines, but I only laughed out loud at the Tim Burton joke.  I really miss the days when I'd practically fall out of my chair over the hilarious insanity of this bunch.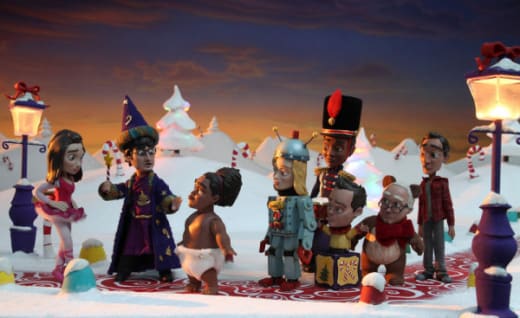 Community, what's happened to you?  You used to be so absurdly funny and didn't take yourself too seriously.  Lately, it seems every episode has to be about teaching some sort of lesson.  The last two weeks in particular have just felt flat. Maybe I just don't get your recent slide into After-School Special territory, but I'm thisclose to start using the phrase "Tonight, on a very special Community" in my reviews.
I did think the characters' spot-on transformations to toy versions of themselves was genious, and only
Community
would give an animated Chang snowman Asian-like features.
The animation was vivid and very well done.  I loved how detailed they made the sets, down to the owl statue on Duncan's desk.  Therefore, I'm basing my rating solely on how creative the episode was because the usual reasons why I get a kick out of watching
Community
do not apply here.
Before I start getting spears hurled at me in the comments, I admit that I'm in the minority here and most fans will adore this episode.  Rather than continue to expound on my admittedly dissident viewpoint, I open up the comments section below to you to please share your reasons on what you enjoyed about it. I've also listed a few of my favorite
Community quotes
from the half hour:
Abed: It's the first season of Lost on DVD.
Pierce: That's the meaning of Christmas?
Abed: No it's a metaphor. It represents lack of payoff. | permalink
Troy: Who taught you therapy, Michael Jackson's dad? | permalink
Abed: Everyone be perfectly sincere. Humbugs are attracted to sarcasm.
Jeff: Wow. Somewhere out there Tim Burton just got a boner. | permalink
Abed: If I can find the meaning of Christmas, everything will go back to normal.
Jeff: Asterisk. | permalink
Pierce: What do you care about Christmas Abed? You're Muslim. Don't your people spend this season writing in angry letters to TVGuide? | permalink
Jeffrey Kirkpatrick is a TV Fanatic Staff Writer. Follow him on Twitter.