Another entertaining hour with the Reagan family, "After Hours" gave us a look into Danny and Frank's pasts.
It sounds like Danny was quite the after hours player before he settled down with Linda and it makes her a little insecure. He certainly seemed at home with the club crowd.
Everyone is allowed a past but when Sabrina dragged him onto the dance floor he really needed to walk away. She's a celebrity. There are cameras everywhere these days.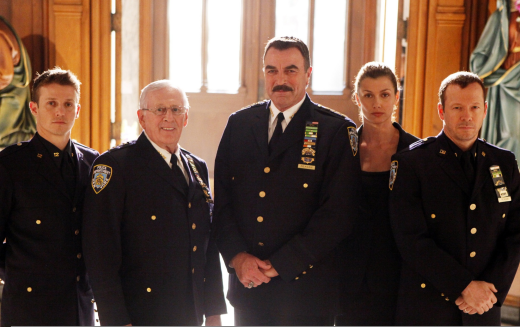 How exactly would he explain a picture of Sabrina gyrating against him to his wife?  He's damn lucky Jackie's the only one who saw them. 

Then he gives Linda a dress as a special gift. Only it's the same dress that Sabrina wears and Linda sees her in it. Ugh. Danny, you're an idiot. I loved it when Jackie as much as tells him so after Linda storms out.  Jackie, "Oh, I could have told you that wouldn't have worked."

Danny, "So why didn't you?" Jackie, "Because you had it coming."

The best part of Frank's back story with his old partner is that Henry despises the man and can't hide it, even when he doesn't want to share the details with Jamie.

Of course he has no problem sharing those same details with the whole family later. I guess he just couldn't hold it back any longer but family dinners at the Reagans' are never dull. Who wants a fortune cookie?

I was so hoping Jamie was finally going to ask his father about the Blue Templar investigation but no such luck. He only told him that he and Sidney broke off their engagement. I don't think anyone in the family will be surprised.

But what was up with that scene where Jamie has a clandestine meeting with former Officer Gonzales? He asks her about Joe's death and the Blue Templar but she disappears into the wind and tells him nothing.  What was the point?

I guess to show us he's still doing his own investigation but so far we aren't learning very much.

Of course at the end of the night, Danny convinced Linda he loves his life with her and their boys and Frank followed his gut and didn't give Jimmy the promotion even before he knew he was "cooking the books."  So I can march into December knowing all remains right in the Reagan world.

C. Orlando is a TV Fanatic Staff Writer. Follow her on Twitter.

Tags: Blue Bloods, Reviews