Where has Naomi been on Private Practice? Is she coming back, and if so, when?
Fans have been wondering this about Audra McDonald's character these past few weeks, but E! notes that Naomi has been overseas tending to William's estate and foundation.
In real life, Private Practice and Grey's Anatomy show-runner Shonda Rhimes tweeted that McDonald is "taking a break to be a mom. She'll be back." Back December 2, in fact: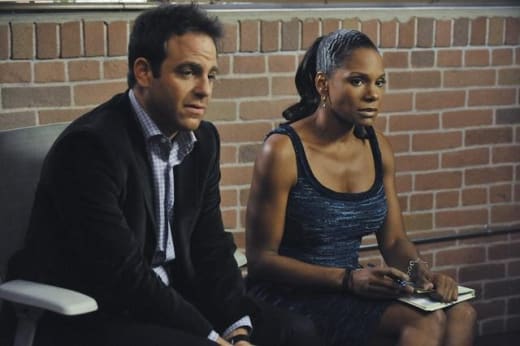 Cooper and Naomi in next week's Private Practice.
Naomi's return to Oceanside/Pacific comes just in time for Addison to decide she wants a baby with Sam. Do we need to explain the reasons this could be uncomfortable?
Sam and Nae were married. Addy and Nae were BFFs. Addison can't have children. Naomi is a fertility specialist. This is all just us speculating, but ... yeah. Awkward.
With Audra McDonald admittedly having issues with shooting in L.A. and living in N.Y., some fans have speculated this season may be Naomi's last on Private Practice.
What do you think? Leave a comment below.
Steve Marsi is the Managing Editor of TV Fanatic. Follow him on Google+ or email him here.