This season of The Simpsons really seems to be stepping up its couch gag.  For the second time, we were treated to an extended bit.  This week's subject material?  A fairly entertaining Avatar parody.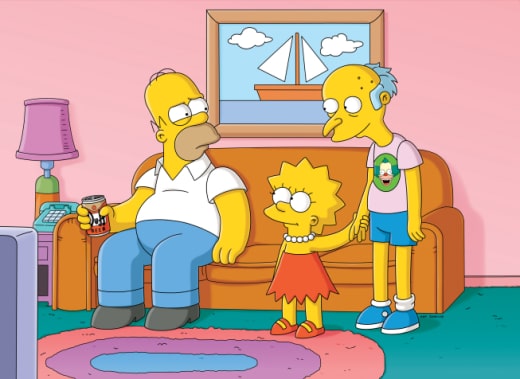 From there, "The Fool Monty" was the obligatory Burns-centric episode we seem to get once a season.  Montgomery is definitely one of our favorite supporting Simpsons characters, so we'll certainly never complain when he's given his own story.
The episode definitely started off strongly, with a fairly hilarious, non-biting satire of the media networks getting together to make up a fake epidemic for television ratings.  Sticking with the classic Simpsons formula, this bit was merely a segue into the episode's actual content: Mr. Burns. 
And that's kind of a shame, because the intro's material seemed much more unique than the episode.  Do we really need another episode showing us how old, evil and lonely Mr. Burns is?
At least the middle of the episode, which featured the townspeople passing around Burns to each take their turn on revenge, was pretty entertaining.  The ending had a cute Simpsons movie reference, but just kind of fizzled out.
Overall, it was a decent, entertaining episode, but just not nearly as memorable as previous Burns installments.  We'll leave you with our favorite Simpsons quotes from the half hour:
Mr. Burns: I want to die quietly on my own term crushing as many of those baby sea turtles as I possibly can. | permalink
Bart: This town can't teach its kids or collect its garbage, but we lead the nation in pointless revenge. | permalink
Marge: This isn't a line for a movie, why are you dressed in that costume?
Comic Book Guy: Because I am afraid of needles, but Wolverine is not. | permalink
Mayor Quimby: Please use your time in line wisely to Sophie's Choice your child. | permalink
Eric Hochberger is the programmer of TV Fanatic, so please forgive his mediocre writing. His programming is far better. Follow him on Twitter and/or email him. Just don't request threaded comments. They're coming.