The Simpsons Review: "Lisa Simpson, This Isn't Your Life"

Eric Hochberger at .
Wow.  Season twenty two of The Simpsons is quickly becoming Lisa's season.  Outside of the Treehouse of Horror special last week, pretty much every episode has belonged to our spiky-haired friend.
While we can never depend on Lisa for the best Simpsons quotes, she did manage to deliver an impressive heart-filled story with plenty of opportunities for Homer to pop up and sprinkle in his humor.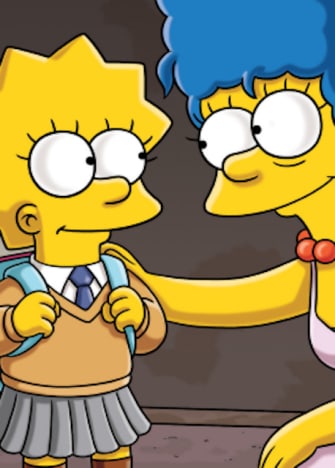 This week's A story of "Lisa Simpson, This Isn't Your Life" followed Lisa as she learned that her mother was also a top notch student.  Much like the season nine episode where Lisa learned of the "Simpsons gene," she went to find a way to not end up like Marge.
The thing that separated this week's story, making it so unique and sweet, was how the episode really became about Marge and Lisa's unique relationship. Much like every Simpsons episode, we knew things had to reset and Lisa had to return to Springfield Elementary, so we had to expect a cop out in the end. 
They used that cop out to show Lisa the sacrifices and things her mother is willing to do for her.  Maybe ending up like her mother and being a housewife wouldn't be such a terrible life.
Meanwhile, Bart gave us a strong B story with plenty of humor, as he kept accidentally beating up Nelson.  Although the ending with him being nice to Nelson was a little cheesy, it helped tie things in with the A story, showing how successful Marge is.
Homer, meanwhile, just spent the episode popping in the two stories entertaining us and trying to secure a missing doll for Maggie.  We'll barely call it a C story, but at least he made us laugh.
Overall, we'd say this episode was the strongest of a fairly decent season of The Simpsons.  Now for our favorite quotes from the impressive outing:
Selma: What a cheap date.
Moe: I'm not cheap baby. I'm embarrassed to be seen with you. There's a big difference. | permalink
Lisa: Someday when I'm a grownup, maybe I'll go back and look fondly at our house.
Bart: Well stop in and say hi to me because I'll still be there chilling in my basement bachelor pad.
Homer: Make sure to water my backyard grave.
Bart: As long as I can dig you up and stick you on the front porch every Halloween.
Homer: Just don't dress me up as a woman.
Bart: We'll see. | permalink
Principal Skinner: Lisa, one of the hardest jobs I have is throwing cold water on young children's dreams. Ralph, you're not a kangaroo. | permalink
Lisa: Lord Buddha, I know I'm not supposed to want stuff, but come on! | permalink
Homer: No child of mine will go without anything. Ever. Except quality health care. | permalink
Eric Hochberger is the programmer of TV Fanatic, so please forgive his mediocre writing. His programming is far better. Follow him on Twitter and/or email him. Just don't request threaded comments. They're coming.