Shonda Rhimes knows a thing or two about dealing with PR landmines. See Washington, Isaiah, and to a lesser extent, Heigl, Katherine. Fittingly, Rhimes is now developing a new series about a crisis manager, based on real-life consultant Judy Smith.
With Bill Clinton, Michael Vick, and New York Governor David Paterson among her scandal-plagued clients, Smith inspired Rhimes' newest, currently-untitled drama.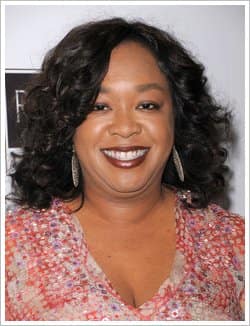 The project (which some development trackers had been calling In Crisis) will revolve around the life and work of a professional "fixer" and her dysfunctional staff.
Rhimes is writing the script for the pilot and will executive produce with her ABC Studios–based Shondaland production company. Smith is also set to be a producer.
The show is being developed for the 2011–12 TV season, and while it is still in its infancy, the idea sounds like something ABC executives might be rather keen on.
The network has failed to develop a
Law & Order
–like procedural in the legal or police arenas. Rhimes' latest effort could offer that kind of drama in a different motif.
Maybe Smith can even convince some of her ex-clients to do ironic cameos, New York Magazine wryly notes. Michael Vick as a pet-shop owner, perhaps? Okay, sorry.
The crisis project isn't the only potential series on Rhimes' agenda.
In addition to the new medical drama Off the Map, which features doctors in South America and premieres on ABC in January, Shondaland is developing Life After Marriage, a comedic drama that uses a divorce as the starting point for a show about new lives beginning unexpectedly.
Rhimes is supervising this show as an executive producer; the writer is Danny Brocklehurst, best known for his work on the award-winning British TV drama Shameless (the U.S. adaptation of that show debuts on Showtime in January).
One of her pilots, a show about D.C. journalists titled Inside the Box, actually failed to get picked up last season, but clearly she's had many more successes than not.
Shonda, of course, is best known for creating Grey's Anatomy and its spinoff Private Practice, both of which have become long-running cash cows for ABC Thursdays.
Steve Marsi is the Managing Editor of TV Fanatic. Follow him on Google+ or email him here.