Hawaii Five-O Review: Been Here, Seen This
at . Comments
As far as I can tell, the title of this week's Hawaii Five-0 episode, "Ho'apono," translates to "Accept."
What's really hard to accept though, is an average episode from a series that has been thrilling since its premiere.
I felt as if I had seen this episode before. It wasn't terrible, but the wrongly-accused husband taking hostages and demanding the real killer be found has been done... and done and done.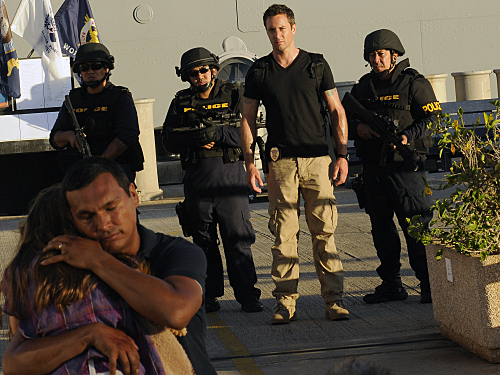 The saving graces of this installment came from the banter between Danno and Steve McGarrett because, as always, the dialogue on this show was superb. Some of the interaction between McGarrett and McKay (Robert Loggia) was wonderful to watch, as well, though it dipped into schmaltz when McKay revealed he served with McGarrett's grandfather during World War II.

There is a time and place for generational bonding, but the middle of a hostage situation is really not one of them.

The story wrapped up in a predictable fashion, as Danno refused to consider the hostage taker's innocence until evidence proved otherwise, and McGarrett was generally convinced of it, but only because the hostage taker was a Navy SEAL and because it's McGarrett's job to be completely contrary to all of Danno's opinions.

There was no surprise when the hostage taker was revealed to be innocent of killing his wife, and the only suspense really came from wondering if this innocent man would make it out alive. And even then there was no shock because a plot that overused cannot help but conclude with a happy ending.

Great dialogue does not make for a great story. Great dialogue only saves an average plot from being a horrible disappointment. I know how great this show can be. It's wowed me with excellent character interaction, quotes, and story before. This week was an unfortunate slip, but one slip cannot derail a great show.

I look forward to next week's episode, and hope I'm rewarded with the pulse-pounding excitement and awesome storytelling I have come to expect from this young series.

Tags: Hawaii Five-0, Reviews