Desperate Housewives Review: Chimichangas vs. Franks & Beans
Hillary Malone at .
Could Keith really be Bree's future? 
All bets were against it, especially given their 17-year age difference, when this season started. But on the episode "A Humiliating Business," Bree confesses to Keith that she has begun menopause and he takes it in sexy stride.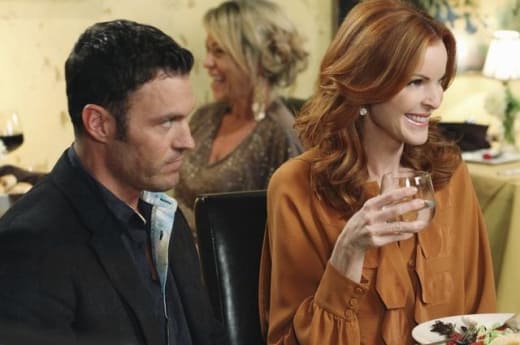 Keith does, of course want kids, but Bree is over that stage of her life, more interested in hot sex and learning new aerobic actvities.  After all, she is a grandmother, remember.
The irony of Bree's gyno being Keith's mother was a good twist, especially when Mary told Keith that Bree's signature red hair is not her natural color. Awkward!
Speaking of unnatural: is it just me, or was it a bit of a stretch to try to imply that Carlos could be flipped by gay neighbor Bob?  I just didn't see it, but I suppose it did provide a good set up for some of the
best quotes
of the night. To wit:
Gaby [to Lee]: Use the back door.
Lee: I always do. | permalink
Gaby [on Carlos]: He's not going to give up these chimichangas, for a plate of frank and beans. | permalink
Although that mini storyline did not have me convinced, it did have me laughing.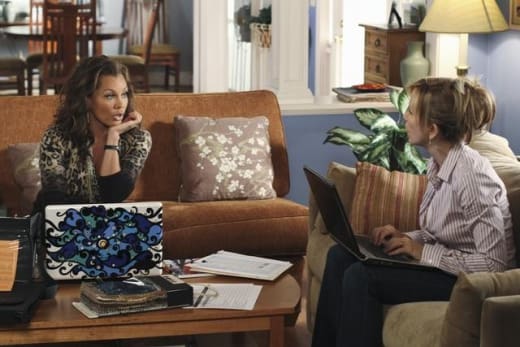 [Photos: ABC]
In other humiliating Lane news, kudos to Renee and Lynette for starting their own business.  A bit random that they chose interior design, however. I mean, it's not like either of them have any experience, and, let's face it, Lynette does not exactly have a high style home of her own. Then again, she's just the brains behind the operation.
I actually felt bad for Susan when she was asked to be the nanny instead of a part of the design team.  She actually would have been a good addition considering she is an artist, and clearly has a better eye for it than gold digging Renee and Mom of the Year Lynette.  But it's Mary Poppins-ville for Susan this time around.  Man, from an Internet porn maid to a nanny all in one swoop – now that's progress!
Vengeance is the key for both Paul and Beth, and as predicted, Beth is a co-conspiritor with Felicia Tillman to get revenge.  Although we're not sure what their plan is yet, we can't wait to see what comes next.  Beth, the demure and naïve wife, may just have the last laugh in this marriage.  She's showing signs of the other Desperates on the Lane: blackmailing an ex con. Sounds like she's catching on quickly. 
What did you think of the episode and reveal at the end?