How do you deal with the person who shot you? As we learned on "Hot Property," if your name is Michael Weston, you suck it up and move on.
Elsewhere, I love Madeline. As I mentioned earlier this year, she reminds me so much of my own mom that I find myself calling home within 12 hours of watching an episode.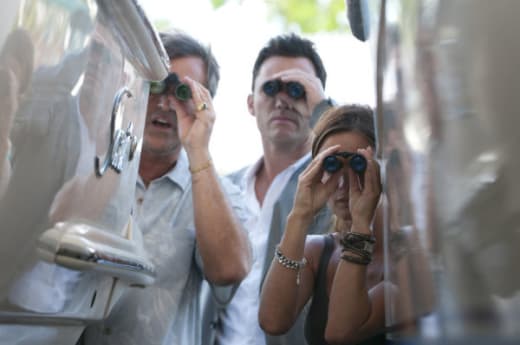 This week, Madeline did such a great job of boiling Michael and Jesse's issue down to its essence of a family fight. I'm sure my brother and I got the same lecture she gave them when we were growing up and got into brawls.
You have to love her straightforward take of "I am not talking about closure, just moving on with it." You can agree or disagree with her methods, but seeing Michael and Jesse smiling at each other at the end of the episode made it all worthwhile.
One thing I have always loved about
Burn Notice
is how it will bring a character back to make an appearance, even if we haven't seen him/her in a long time. It's a staple of spy movies and books and it's nice to see it included in a spy TV show, too.
That person was Natalie this episode, who we last saw having stolen Barry's ledge in the 2009 installment "Friends Like These." Given how the show ended with her handcuffed and waiting for the feds, I'm betting we will see her again.
In conclusion, it was a very good episode and it's great to see the peas in the pod (Jesse and Michael) back together and smiling. I think this is going to mean some more Fiona drama for Jesse as he's still hung up on her, but only time will tell.
Jim G. is a TV Fanatic Staff Writer. Follow him on Twitter.