Tonight's installment of Blue Bloods had me on the edge of my seat. "Re-Do" was one of the most dramatic episodes of the show we've seen so far.
Dick Reed was a suitably menacing serial rapist/murderer. Kudos to the actor.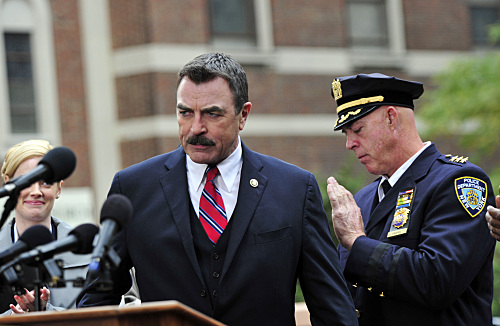 He really sold the evil persona. One of my favorite scenes was when he got off the prison bus and was greeted by groupies. I can only imagine the type of people who worship violent criminals but I'm sure they exist. It's a strange world.

I've read that Jennifer Esposito who plays Jackie is now a regular cast member and I'm thrilled. Danny and Jackie have some great chemistry and I'll be happy to watch these two banter over cases for the rest of the season.

Although they made it too obvious that Reed was going after Erin at the end, the scene was still suspenseful. I kept yelling at the TV for her to spray him in the face with that fire extinguisher and then hit him in the head with it. Unfortunately my pleas fell on deaf ears but I give her points for using whatever weapon she could find. As a NYC Assistant District Attorney, Erin could certainly get a carry permit for a gun.

Perhaps she'll consider it after this. I know I would.

Frank killing Reed with one shot to the head was quite the moment. He must have had a lot of confidence in his skills.

All in all it was another great episode from a show that continues to grow on me. How about you?

C. Orlando is a TV Fanatic Staff Writer. Follow her on Twitter.

Tags: Blue Bloods, Reviews
Want more Blue Bloods?
Sign up for our daily newsletter and receive the latest tv news delivered to your inbox for free!
More From TV Fanatic

Aria finds some interesting clues as she begins volunteering at Radley while Hanna continues to struggle with Alison's return.

With Maura away, Jane must rely on Susie's help to solve the perfect murder on Rizzoli & Isles.

Royal Pains Season 6 Episode 7 When Jeremiah helps out one of her burlesque friends, he grows closer to Vivianna. Paige learns something...

April misses an opportunity on Chasing Life, but can another make up for it? Brenna learns about Natalia Ortiz, which sends her into Greer's arms. Read the review for more.
---