Following last night's incredible Glee episode, many viewers may still be weeping.
But we urge them to dry their tears in order to read what creator Ryan Murphy has to say about a number of topics, starting with when Jonathan Groff will re-appear on our favorite musical comedy.
"[He] is definitely coming back next year. Next calendar year," Murphy told E! News. "He's not available until January, but he'll be in the back [nine] episodes of this season."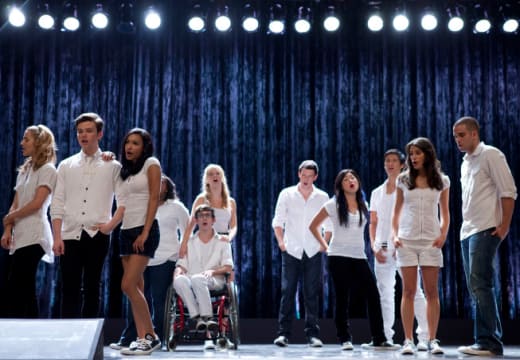 Here are a few other tidbits and spoilers Murphy shared:
On the post-Super Bowl episode: I feel like everyone's already talking about Michael Jackson or Springsteen or Prince, but I want to do something that no one would suspect. Just some random person, I don't know. I have a couple feelers out to several artists, all of whom have said yes - which I never expected, so now I have to choose.
Was Matthew Morrison really gonna shave his head for the Britney episode?
That was never seriously going to happen, it was just an idea. It was discussed as one of many things to do because she's had many pop culture events, but it was quickly discarded. None of us really felt it was appropriate.
What's ahead for Finn and Rachel? There is trouble ahead when Rachel plays spin the bottle!
Matt Richenthal is the Editor in Chief of TV Fanatic. Follow him on Twitter and on Google+.