Weeds Review: "Pinwheels and Whirligigs"
at .
Everybody needs a good ol family outing every once in a while and one thing is for certain: the Botwins were definitely in need of one in last night's episode, "Pinwheels and Whirligigs".
After driving God only knows how many hours, the Botwins stopped to grab a bite to eat and wash up. Nancy spotted a poster that showed a rodeo was taking place in the local town. Somehow, she convinced the gang to go.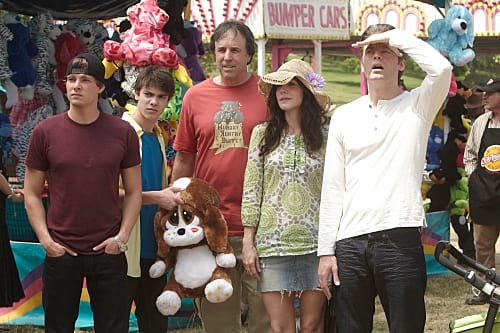 Sidenote: I am not sure if I knew that Judah's profession was building roller coasters. What a fun and interesting fact! Fun is the key word here because it was the main theme last night.
Everyone seemed to be having a good time; well,almost everyone. I really couldn't watch Silas and Andy scarf down those butter sculptures, as the mere thought of it is making my stomach churn right now. Pun totally intended.
And after all that outrageously disgusting work, Silas couldn't even get the Winnebago! Come on! That was just plain mean! They should have at least offered him something!
Nancy really is the most dim-witted mother out there. Case in point: leaving your baby with Doug. As foolish of an idea as that was, I do have to admit it was pretty darn funny. Who else would give a baby cotton-candy, wash it down with a mini soft serve ice cream cone, and then take him on a Whirligig ride! Gotta love that Doug is even just a part of this zany family now. Who cares if he has his own family? I think he indubitably deserved a new name! Go Ted Wilson!
Shane really showed us that as hard-ass as he is, there still is a child-like side of him that's in there. It's amazing that after all this time, Shane surpasses his older brother to become the protector of the family. I really don't think they'd all be here today if it wasn't for his showdown with Ignacio last week.
I don't think Nancy is the type of mother to play favorites over any of her boys, but Shane unquestionably needed this time with his mother. It may not have been the best way to get on the roller coaster, but that time together was absolutely needed.
It's interesting to see that the FBI are hot on Nancy's tail, as well. I doubt that Cesar will tell them anything, but we know now that Esteban is not the only one interested in finding the gang.
I've always been a huge fan of this eccentric show - and for better and for worse, I always will be. What did you think of last night's episode? Too soft or firm like a cold stick of butter? Let us know below!
Until next week, here are a few of my favorite Weeds quotes from last night:
Nancy: Jesus Christ. It's like I have to do everything myself. | permalink
Andy: This is tasty.
Silas: It's leftover from Seattle. I just added a little cinnamon for flavor.
Andy: Sometimes I think you're the son I never had.
Silas: Thanks.
Andy: I'm serious. I feel a special kinship.
Silas: Cause we're related.
Andy: I'm talking spiritual kinship. | permalink
Nancy: Outlaws don't refer to themselves as outlaws. Just an FYI. | permalink
Doug: I'm Ted Wilson now, very responsible. | permalink
Doug: I'm good with babies. They see me as a kindred spirit slash taller version of themselves. Go be free. | permalink
Silas: Shane, get over yourself. No one cares.
Shane: You're just jealous.
Silas: Of what?
Shane: That mom likes me more now. | permalink
Nancy: I am here because I don't want my kid to miss out on his entire f*cking childhood. It's just fun. | permalink