The CW teased a big surprise on "Kill or Be Killed."
So... it had to have been the fact that Sheriff Forbes is now aware of Damon, Stefan and even Caroline's true identity, right? Nope.
Oh. Then it was the revelation that Stefan isn't merely back to drinking human blood, but he's slowing consuming Elena's in order to defeat Katherine, correct? Try again.
Okay. It must have been the episode-concluding scene in which it was revealed that Katherine is in cahoots with Mason, has been involved with him for over a year and now has the moon stone in her possession? Yes, that was definitely it - because I absolutely did not see that coming!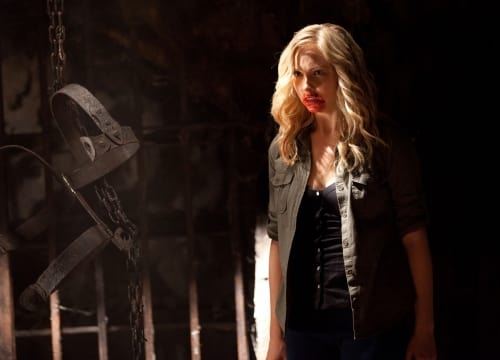 Indeed, all three of the developments outlined above could have served as the focus of this installment and left viewers with many questions heading into the rest of the season. But, come on, this is The Vampire Diaries. It doesn't just zig one time when you expect it to zag.
It careens all over the place more than Lindsay Lohan after a typical night out. But in safer, more suspenseful fashion.
There are numerous issues left unresolved regarding Katherine and Mason's relationship:
When did he learn she was a vampire?
Why does she want the moon stone?
Has she been trying to recapture it ever since she gave it to Mason's ancestor?
And what the heck does it even do?!?
Throughout the episode, I was impressed by how the show had depicted Mason as neither good nor evil. Even when he plotted to help kill Stefan and Damon, it was out of self defense, not pure malevolence. But now there's no doubt about what side he's on, and I can't wait until October 21 to learn more. (Darn you, CW, for forcing us to wait two weeks for the next new episode!)
Shocking conclusion aside, viewers were also treated to more shades of Damon's humanity during the hour. He spared Liz's life, he reacted in disgust and horror at her disowning of her daughter. When Elena pointed to these actions as the signs of the Damon who was "my friend," I have a feeling she was speaking for countless female viewers out there, wasn't she?
It's okay, Delena lovers. Go ahead and swoon.
But don't get your hopes up too high. You know what they say: a couple that uses human blood together, to ensure that one half of it can fight off the dangerous doppleganger of the other half, stays together. Words to live by.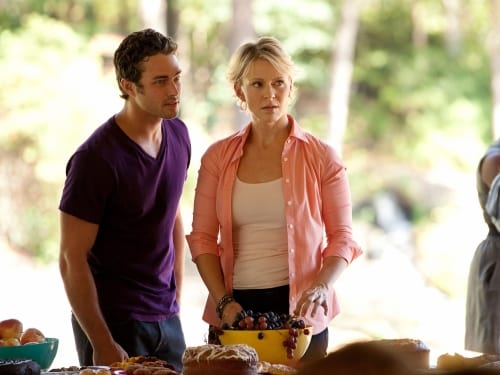 So, now we have the sheriff locked in the basement, detoxing from vervain and awaiting to be compelled; Stefan taking a risk by going back on the red stuff; Damon looking hot; Caroline alone, scared and quickly learning the vampire ropes; and Jeremy in on Tyler's secret, all while Katherine and Mason plot who-knows-what in the woods.
What an episode! Where will it go next? Sound off now in our Vampire Diaries forum and in the Comments section below!
Matt Richenthal is the Editor in Chief of TV Fanatic. Follow him on Twitter and on Google+.