When Patrick Jane walked into a wake/crime scene on "Pink Chanel Suit" and knocked on a casket, bent over and took a listen, I had to ask: Why? Was he really expecting a response?
Later on, we find out he thinks there are two bodies in the casket and he is shocked to find out he's wrong.  I loved that scene.  For as much as I like this man, he has an arrogant streak that needs to be taken down a peg sometimes.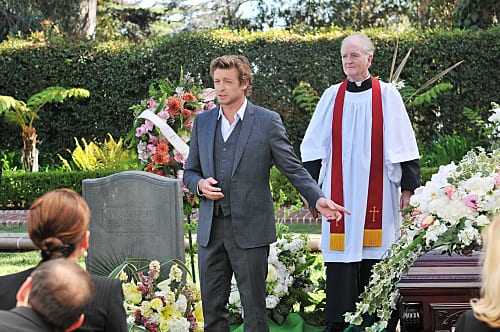 I was happy to see Ayre Gross playing Dr. Saban in this episode, even though upon seeing him I figured he was the killer.  I love his occasional appearances as Perlmutter on Castle.  Although his character wasn't nearly as quirky here, I still enjoyed him.
Meanwhile, every episode has its Patrick Jane silly moment and this was no exception.  Jane trying to run across the estate, while carrying a rolled up area rug on his shoulder, was comical. Of course, he had a perfectly logical explanation... in his mind. 
He wanted to see if it was for the killer to carry Abby's body off the estate and not be seen by security.  Was it?  "Not unless the culprit was a mountain gorilla."
As for the Awww Moment of the Night? It goes to Rigsby. He notices VanPelt's necklace and asks if it is a gift from her new boyfriend, O'Loughlin.  When Grace confirms that it is, he simply replies, "He has good taste." 
It's so nice to see him forgo a sarcastic comment and just be... nice.  Even though these two are officially apart, I still look forward to the Rigsby/VanPelt scene in each episode.
The end was entertaining.  When Abby's mother requests an apology from Jane, he calls her a "self righteous, embittered, old bat."  Of course, he doesn't know she's listening.  To Pauline's credit, she agrees with Jane.  She says she is embittered but admits that his "arrogant, callous, juvenile behavior" revealed the truth about what happened to her daughter and she thanks him.  Somehow Jane's "sorry" doesn't come across quite as genuine - but he can be hard to read.
What did everyone else think?
C. Orlando is a TV Fanatic Staff Writer. Follow her on Twitter.