Private Practice Review: "All in the Family"
Steve Marsi at .
Some think they take it a little far, but say this for Private Practice: Much like its parent series, Grey's Anatomy, it's not afraid to push the envelope with weighty topics.
Fans were promised the darkest story yet - PP already featured an unborn baby being cut out of its mother and stolen, mind you - and last night we saw the start of it.
We'll get to Charlotte in a bit, but there was plenty of other drama leading up to the shocking conclusion of "All in the Family," and most of that was pretty heavy too.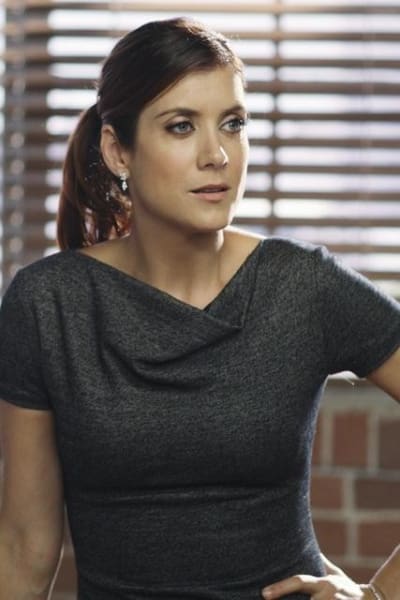 Addison's the type who takes work home with her. Sam? Not so much.
Addison and Sam treat a comatose patient who's ... pregnant. Because that happens in real life, right? In any case, they learn that it was her husband who impregnated her.
The woman is rushed into surgery and loses the baby. When Addison overhears the man telling her "they" will keep trying to have a family, she calls the authorities on him.
Sam doesn't go as crazy over all of this as Addison, which really riled her up, even leading to a threat of withholding sex. Yeah, she seems like the type who would pull that.
It did bother him, though, he just wants to let it go while he's at home. Tonight the man wants to get down with his girl! Hey, gotta separate business and pleasure, right?
In the second wildest medical story line of the evening, a car accident patient, Jacob, tries to peace out of the hospital almost as soon as he's admitted. Definitely sketchy.
Pete realizes why. His co-passenger was male prostitute. Meanwhile, Charlotte informs her patient, Angela, that she's well enough to have kids with her husband ... Jacob.
Oh, and he's HIV positive to boot.
Charlotte and Pete debated whether to tell Angela outright or let Jacob do it. He later does, introducing her to Evan the prostitute, who also happens to be the man he loves.
Angela knew deep down he was gay and was practically grateful to have this secret out in the open, but when Jacob told her he's HIV positive, it was like a stomach punch.
Speaking of secrets, Violet's trying to unlock Pete's. Through prying and using Google, she's figured out that his brother doesn't even live too far away. Why not reach out?
Finally, Pete comes clean about his "garbage" family, his mom who was a drunk, and the brother who covered it up when she stabbed one of her lovers to death. Holy cow.
One can certainly understand Pete's hesitance to bring that up, or try to reconcile with them now. But his mother and brother have been cast on the show, so he will soon!
Cooper and Charlotte's feud of the week is about whether to have kids. As we know, he wants them and she's balking. Tragically, it's the least of their problems right now.
After staying late to do admin stuff on a busy Halloween, Charlotte shuts down her computer and steps outside her office. Someone is waiting for her. It's beyond scary.
Poor Charlotte doesn't even have a chance as her attacker hits her in the face and stomach before throwing her stunned body back inside the office and closing the door.
If it weren't obvious enough, this is not going to end well. In fact, it's only the beginning of a tragic story line for Charlotte we will watch unfold next week and long after.
We imagine this will give more than a few female viewers nightmares, and while we applaud Shonda Rhimes for taking risks, it left us a bit uncomfortable just the same.
Is this the kind of thing you want to see on TV? Do the execution and the drama make up for the upsetting subject matter? We'd love to hear what you think about this.
Have at it! What did you think of last night's Private Practice? Discuss!
Steve Marsi is the Managing Editor of TV Fanatic. Follow him on Google+ or email him here.