Private Practice Review: "A Better Place to Be"
Steve Marsi at .
"Your do-over is not with Betsey. It's with Lucas." - Coop, to Violet
The stunning Private Practice spoilers we passed along earlier this week prove that the medical drama is only going to become more grim as November sweeps near.
As we've frequently pointed out, however, this is not a show to shy away from dark stories in general. "A Better Place to Be" brought back a painful reminder of that.
Betsey returns to Oceanside. This is the same girl whose mother perished after a homemade meth lab explosion and whose father died in a car crash last season.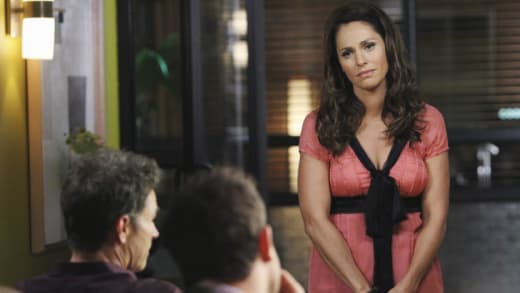 How far will Violet go to help the daughter of a dear friend?
As if that weren't bad enough, her aunt says she can't care for her anymore and bails. Just like that. Betsey actually asks, "Where am I going to sleep tonight?"
Violet offers to take Betsey in for awhile, a decision that may have clear long-lasting ramifications, but in the short term, goes well. She wants to stay for good.
This idea is taken very seriously by Violet, although Pete is hesitant for good reason, and Cooper knows there's more than a desire to help Betsey at work here.
It hurts, but Violet knows he's right about her motives.
The Betsey also situation brings up questions about children for Sam and Addison, and for Cooper and Charlotte, who wonder if they should take the poor girl in instead.
But when Violet comes out and asks if anyone would be willing to take Betsey, no one says a word. Nobody takes that plunge for her. It may be the saddest thing ever.
You can see how her heart aches as Violet turns Betsey over to a social worker, then tells her co-workers that they did a bad thing, all of them. No one can say a word.
Another depressing story for Betsey, but probably more realistic than if any of the docs had take her in. You wonder if this plot line is officially over, of if she'll be back.
The little girl has nothing, then had the prospect of a happy, stable environment presented before her for a brief moment, only to have it torn away once again. It hurts.
Regardless, it was well-acted and well-written, but painful to watch.
Can Addison and Amelia save the day?
Speaking of which, Addison and Pete treat a pregnant woman who suffers from a painful condition that never shows up on any tests. What is causing the pain? Who knows?
Amelia. Derek's sister discerns that the woman's pain comes from pressure on her brain. Pete is against doing surgery because of the risk, but Amelia and Addison want to.
Pete bonds with the woman's husband, having fallen hard for a woman in his life as well only to endure impossible emotional situations. Luckily, the surgery is a success!
Sheldon offers to help a bullied boy named Kenny, and learns that the boy's mom puts him in a new school at the first sign of trouble. She's an overprotective single mom.
Kenny tries to commit suicide, leaving his mom a wreck. But Cooper and Sheldon convince her to let the little boy stay in one place, to try to handle things for himself.
It's hard for any of us to let go, but sometimes it's what we must do.
What did you think of last night's Private Practice? Do you like the new season so far? What are you most hoping for next? Discuss in the comments.
Steve Marsi is the Managing Editor of TV Fanatic. Follow him on Google+ or email him here.