Originally set to be the fourth episode of this Always Sunny season, tonight's costumed-filled episode was more appropriately pushed back a few episodes.  Normally networks screw things up when they move episodes around, but this way the episode logically fell closer to Halloween (although it refers to last Halloween) and marked the middle of the season with a very strong episode.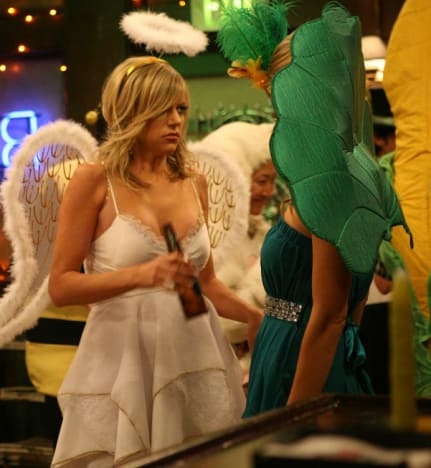 If you couldn't tell from our last run-on sentence, we loved this episode.  It easily is the most creative of the first seven episodes, told from a Hangover-esque style of story telling as the gang attempted to solved the mystery of "Who Got Dee Pregnant?"
Luckily, the gang only got brownout drunk (hey, it's public domain!) and not full-on blackout, so they were able to slowly recollect the events of the night with a little help from Artemis and the McPoyle twins.
It was nice to see Artemis back in physical form after only her voice made an appearance last week.  Slightly less nice?  The image of Frank and her in the dumpster performing sexual acts that involved hamburger buns.
There were definitely hilarious drunken antics throughout the night, and before we get to our favorite
Always Sunny quotes
, we'll just mention some of our favorite jokes and moments:
The bird jokes never get old, no matter how fat (pregnant) Dee is getting. 
Good call on saving the Emu, Mac.
Okay, last bird joke mention... the Ostrich in the bathroom while Mac told his version?  Unreal.
The Night at the Museum jokes sandwiching the episode.
Mac telling his version of the story... and the reveal he punched a woman.
The McPoyles turning down a fist bump.
But perhaps the funniest McPoyle moment ever... their weird sexual noises they made about Mac and their sister.
The entire Phantom of the Opera exchange.
The episode fittingly ending with the guys not giving a s**t once they learn none of them are the father.  Don't forget one is Dee's dad and the other her brother.  Love these a**holes.  Best slash worst friends possible.
That list is going to go on forever until we recount the entire episode, so we'll just leave you with our favorite quotes.
Dennis: It's fatness, plain and simple. It's a person becoming fat before your very eyes.
Charlie: And I don't even know how to make the bird jokes anymore. They no longer apply.
Dee: I'm not fat, I'm pregnant!
Mac: I feel like you say that all the time now.
Frank: You better do yourself a favor and flush it out.
Charlie: Wait a second, you definitely said that before.
Mac: Since we're all saying things we say all the time. I'll just reiterate. Dee, we don't care about you, or your body, or that baby bird. | permalink
Dennis: You are dressed like the Phantom of the Opera. He's not a vampire.
Charlie: He eats theater people.
Denis: No, he doesn't.
Mac: I think he might.
Frank: He does.
Dennis: Do you even know who the phantom of the opera is?
Mac: He might not.
Frank: He doesn't.
Charlie: I don't. | permalink
Frank: We're trying t piece a night and we need your help.
Artemis: I don't remember that night.
Frank: I didn't tell you which night yet.
Artemis: I don't remember most evenings. | permalink
Frank: We gotta get you and the monster that's in your gut down to Mexico, ASAP! | permalink
Eric Hochberger is the programmer of TV Fanatic, so please forgive his mediocre writing. His programming is far better. Follow him on Twitter and/or email him. Just don't request threaded comments. They're coming.