Gossip Girl Reality Index: October 4
by Steve Marsi at .
We reviewed Monday evening's Gossip Girl, "Touch of Eva," earlier this morning. Now it's time for one of our favorite GG features, New York Magazine's reality index.
Excerpts from their take on the night's high and low points: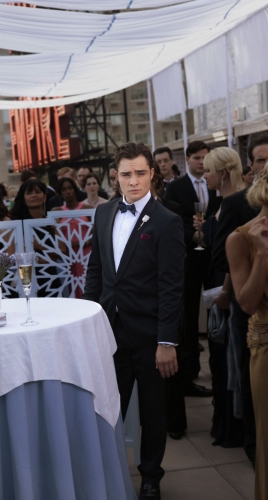 Okay, even though the writer of the Post article about Eva (ALL ABOUT EVA!) sounds exactly like Gossip Girl ("Looks like this Parisian beauty reeled in a Bass. A Chuck Bass, to be more specific"), we have to give a Plus 1 to the layout.
Blair is "guessing" Eva's motivation is Chuck's money? What, are we watching some junior-varsity version of Blair now? Minus 3.
Blair calls Dan and Vanessa "Humphrey and Dumpty." Plus 2. Has it really taken her four years to think of that one?
Blair does not press the ambulance issue enough. You can clean someone's wounds with vodka, but can't call a hospital from your home phone? Minus 4.
Blair: "You were just so easy in Paris." Plus 2 that their friendship has now progressed to the "when in doubt make a joke about Serena being a whore" phase.
Okay, we don't know a lot about prostitutes, but our general experience is that they don't put their actual names on their websites. Hopefully we're not revealing too much here - we learned it all from Ashley Dupre! But seriously. Minus 3.
Blair: "Blackmailers must be weeping all over town." Plus 5, because Blair would know, she employs about half of them.
Never has anyone said, "I feel terrible" in a less genuine way than Serena says it about trying to break up Dan and Vanessa. Plus 2.
Eva can lie to Chuck about being a prostitute and receive a check for $5 million 20 minutes later, but Chuck can't doubt her for 10 minutes? Minus 5.
Honestly, Rufus' Botox is making him look younger than Dan. Minus 1.
Steve Marsi is the Managing Editor of TV Fanatic. Follow him on Google+ or email him here.

Tags: Gossip Girl
Related Stories