Simply put, as Sam said last night, "The Rocky Horror Glee Show" as ab-lulous! We loved the way it incorporated songs from a classic movie into an ongoing storyline between Will and Emma.
What else did we enjoy about the episode? Our staff goes over it all in the following edition of the TV Fanatic Round Table...
What was your favorite quote from the episode?
M.L. House: I was in Sue's Corner for this line: "Children must know fear. Without it, they'll try be Frenching grizzly bears or trying to live in Florida."
LJ Gibbs: "I have no idea what's going on in this script, and it's not in a cool Inception kind of way." God bless you, Finn.
The Barancle: I enjoyed how the episode tackled body perception from a male point of view, as that's an under-reported issue. It also led to this gem from Sam: "Ain't no carpool lane to sexy."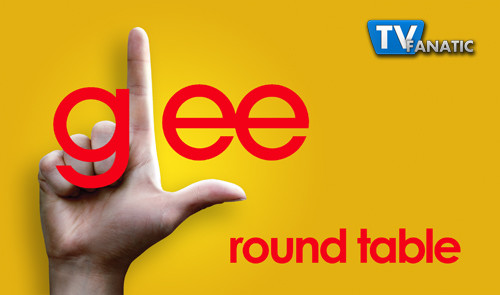 What was your favorite song from the episode?
M.L. House: It may cause my wife to leave me for John Stamos, but I also couldn't help but get down to "Hot Patootie - Bless My Soul."

LJ Gibbs: Easy. I wanna do the Time Warp again. Can we stop to give props to the costume designers for coming up with these outfits? Truly astounding.

The Barancle: "Touch-a Touch-a Touch-a Touch Me." I didn't think Emma had that sexy side in her, but... wow. Safe to say she does.

Are you on Team Will or Team Carl?M.L. House

: Sorry, my curly-haired friend, but Team Carl. Will may have come around in the end last night, but the entire inspiration behind the musical was petty and selfish. As Will himself eventually said, Carl makes Emma happy. It's that simple.

LJ Gibbs: Easy. Where there's a Will, there's a way to get these two together! As The Barnacle referenced in his answer above, Emma may be content with Carl, but a whole new side of her comes out with Will. She seemed pretty darn content singing that song to him, didn't she?

The Barancle: Team Will. For Emma, that is. For myself? Team Jacob all the way!

What classic film would you next like Glee to take on?
M.L. House: The Sound of Music. How amazing would that be?!?

LJ Gibbs: West Side Story.

The Barancle: Can I choose a play? Wicked. We already know Idina Menzel would fit right in.

Matt Richenthal is the Editor in Chief of TV Fanatic. Follow him on Twitter and on Google+.

Tags: Glee, Round Tables