This week, Peter and Water were mere hallucinations and Bolivia was nowhere to be seen.  The entire episode took place on The Other Side, and the result was not too pleasing.
On "The Plateau," the Division on the Other Side races to stop a man capable of setting off a chain of events to commit murder.  Ultimately, Olivia is able to help apprehend the bad guy.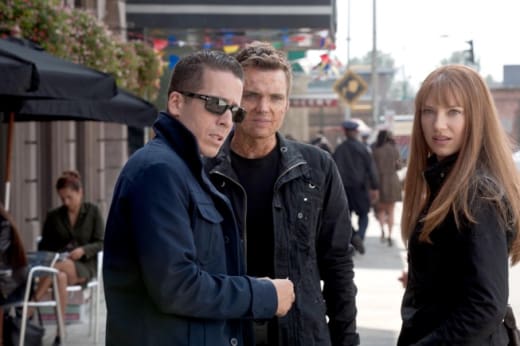 I watch Fringe each week, and love seeing our amazing Fringe team solve strange and unusual cases.  Recently, the focus of each episode has been on the Alternate Universe storyline, which I also love.  I usually am on the edge of my seat, trying to guess what will happen next and how Olivia will return home. That storyline usually is so captivating, and this week's episode left me feeling like something was missing.  The episode felt a bit boring.
There were many problems for me.
First, I really didn't like it that the entire episode took place Over There.  Everything just seemed a bit off.  Did you catch the part that avocados were an expensive and rare item?  Weird. They should have at least switched back and forth a few times, giving the viewers a peek into what was going on Over Here.
I also didn't enjoy seeing our good Olivia fighting crime on a side that thinks she is simply disposable.  Walternate made it very clear to Broyles that if they are not successful in utilizing Olivia, she will not be necessary.  I hope Olivia somehow finds a way to apply her ability and crosses back home, exposes Bolivia, and ends the war permanently.
I missed seeing Peter and Walter, except in Olivia's visions.  I believe the Bishops are a vital part of what makes Fringe a success.  I love their one-liners and complex relationship.  Will Peter ever forgive his father?  Will Peter ever feel like he has a true home? 
Did you catch on to the similarities between Olivia and Milo's stories?  Both characters lost in their minds, unable to find out who they truly are.  I wonder if this is just a coincidence or are the writers trying to tell us something? I have the feeling there are a lot of hidden clues through each episode.  
At the end, Olivia has a very intense vision of Peter that ends with a kiss.  I really hope she now remembers who she is.  Do you think Peter is somehow trying to warn her?  This seems highly improbable, without Peter knowing Olivia is missing and Bolivia an imposter. 
There are just so many questions that are left unanswered. 
Do you think Olivia will be the catalyst needed to help Peter prevent the war his father so desperately wants?
Will Olivia's powers play a role in winning the war for our side?
How did parts of the dooms day machine end up on our side?
How do the observers fit into the story?  Whose side are they on?
I guess for now all we can do is watch and wait.  Next week will take place back Over Here and we look forward to seeing what will transpire.  Come on, Walter, use your massive intelligence and/or Massive Dynamic to stop Bolivia!

Until then, here are a few of our favorite Fringe quotes:
Charlie: As hospitals go, not bad.
Olivia: Yeah, unless it's run by an evil genius who is creating accidents to kill people. | permalink
Brandon: Do you miss it?
Walternate: Miss what?
Brandon: Being a scientist?
Walternate: I'm still a scientist Brandon; I just have a much larger laboratory. | permalink
Peter: You know what you didn't die today? Because you didn't know the protocol. If you stopped for oxygen you'd be dead right now. But you did something he couldn't factor in, you kept running. You know why you did that. It's the same reason you thought you saw Walter in that hospital. It's the same reason you think you are seeing me now. You're not from this world Olivia. You're not her.
Olivia: You're not real.
Peter: Real is just a matter of perception. I am here and I'm a part of you, that you have to hold on to. You can't forget who you are Olivia. You can't forget where you're from. | permalink