On "Smack Attack," we finally got to see Jamie play hero.
He performed CPR on a teenage girl who overdosed.  Although I enjoyed him in this more serious role, I still loved the prior scene where he issued a ticket to a woman for using her cell phone while driving. Jamie was nothing but professional and polite, while the woman was loud, rude, and wanted his badge number. I can't imagine how often cops have to deal with that.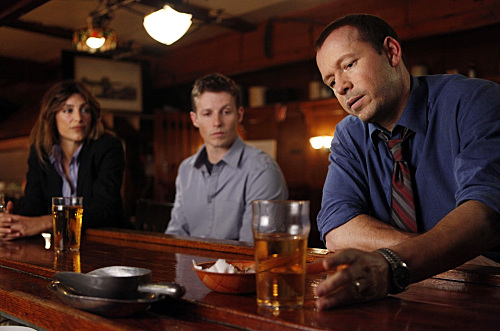 So far, I've enjoyed Danny's new partner, Det. Jackie Curatola. She can go toe to toe with Danny and they have some great banter. I loved their conversations comparing their Catholic school experiences.

After the partner merry-go-round we've seen with Danny this season, I hope Jackie sticks around for a while.

I had to roll my eyes when the detectives wanted to search the school lockers and the priest responded, "That's such an invasion of privacy." Three students died because of a drug they took.  Somehow searching students' lockers doesn't seem so shocking. Shouldn't finding the deadly drug be the priority?

I adored the family dinner scene where they argued about legalizing drugs. I expected Grandpa to be anti-legalization so I was surprised when he brought up his uncle who was blinded by a batch of illegal gin during prohibition. Of course Erin was right, this is a complicated issue. I would have enjoyed seeing them debate it further.

So... we're six episodes into Blue Bloods. What do you think of the Reagan family so far?

C. Orlando is a TV Fanatic Staff Writer. Follow her on Twitter.

Tags: Blue Bloods, Reviews
Want more Blue Bloods?
Sign up for our daily newsletter and receive the latest tv news delivered to your inbox for free!
More From TV Fanatic

Evan, Paige and Bob confront Russel about his rug theft, while Divya and Jeremiah treat a woman desiring to be a mom. But were those all the surprises the Hamptons had to offer? Read our review of "I Didn't See That Coming" now!

On Chasing Life, Leo makes wishes come true. Elsewhere, Brenna meets her other sister, discovering one more family secret. Read on for more!

Join us for the One Tree Hill Rewatch of Season 1 Episode 4! Ready to relive the fun drama?

Power struggles ensue all around Chester's Mill on Under the Dome. Lives will be put on the line.
---