Damon Salvatore. Lots of sex.
Okay, now that we have your attention, allow us to pass along exciting spoilers and tidbits from The Vampire Diaries panel at this weekend's NYC Comic-Con...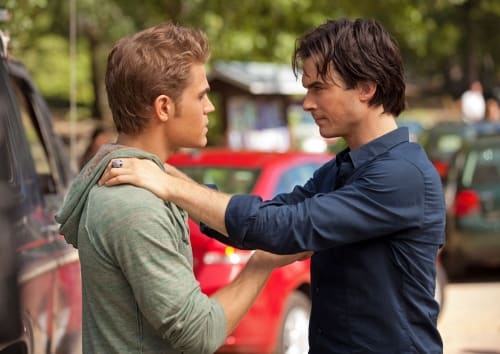 Producers and members of the cast gathered on Sunday and answered questions from fans and reporters. Up first: Will Bonnie get her hook-up on? Said producer Julie Plec:
"Bonnie is going to be getting interest from somebody that she already knows, and she will meet someone new who strikes her fancy."
Hmmm... we know who that new person will be. But interest from someone she already knows?!? Sound off with your theories now!
Might Bonnie get it on with Damon? Plec did joke that "by the time the series is over, Damon will have slept with every man, woman, and child."
Among other upcoming developments revealed and/or teased:
The relationship between Elena and Stefan is "stronger than ever," Plec says. She referred to their blood-sharing moment as a "monogamy commitment."
Both Lexi and John Gilbert may return.
Elena will soon be in trouble and Bonnie will come to her rescue, reviving their friendship.
Kevin Williamson called Katherine "the ultimate survivor" and reiterated that we'll flash back to learn more about her origins.
That's a whole lot to digest, we know. Do it with fellow fans in our Vampire Diaries forum!
Matt Richenthal is the Editor in Chief of TV Fanatic. Follow him on Twitter and on Google+.