90210 does not air a new episode until October 25.
While this makes us sad, it at least gives us ample opportunity to analyze and dissect the latest installment, "Catch Me If You Cannon." From break-ups to babies, a lot went down this week... so let's get right to this edition of the 90210 Round Table!
Are you rooting for Dixon and Ivy?
M.L. House: Absolutely not. We've seen these two together and happy for how long now, maybe five or six minutes total? They communicate terribly - Dixon would rather have Ivy think he's still in love with an ex than be there for him in a time of need?!? - and might very well be happier apart.
LJ Gibbs: Not at all. Why should I be, because the show just thrust them together? They fight all the time! Just break up for good already!
The Barnacle: Yes. Not because they are great together, my colleagues are correct on that. But because I want to see Oscar punished for his dastardly deeds. Kick his behind, Dixon!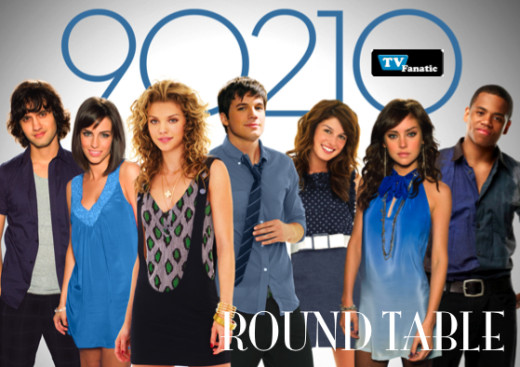 What really happened between Liam and Charlie?
M.L. House: Liam said Shenae Grimes was the worst actress on the show and it led to a fight because Charlie disagreed, yelling, "No, I am!" as he threw punches.

LJ Gibbs: It has to involve Liam's dad, right? We already know he's shady and he's influenced Liam in many ways. I bet Charlie was somehow involved in some scheme the guy cooked up.

The Barnacle: They were lovers. Teddy will end up seeking advice on the topic from each one.

Will Jen and Ryan make good parents?M.L. House

: No. But fortunately they have super nanny Deb there now, the same woman who raised one child to commit vehicular manslaughter and another to not understand how being honest with a girlfriend is always the best way to go... man, this baby is screwed.

LJ Gibbs: Sure. Jen is all soft and sweet now, as the final image of her and her family showed. Who could possibly have seen that coming?!?

The Barnacle: No, but they'll make funny ones. Jacques Strap?!? I love it!

Will Mr. Cannon ever be brought to justice?
M.L. House: Yes, just hopefully in a more satisfactory way than how Annie was brought to justice for covering up a murder.

LJ Gibbs: I'm sure. But wouldn't it actually be a refreshing surprise if he is NOT? Sadly, that does happen in real life.

The Barnacle: Of course he will be. Unfortunately, Naomi will still have to deal with the repercussions of his act for as long as she lives.

Matt Richenthal is the Editor in Chief of TV Fanatic. Follow him on Twitter and on Google+.

Tags: 90210, Round Tables
Want more 90210?
Sign up for our daily newsletter and receive the latest tv news delivered to your inbox for free!
More From TV Fanatic

Our Days of Our Lives round table teams up with MyHourglass to debate if Will took his tirade against Sami too far and whether Abigail has suffered enough after this week's Days of Our Lives.

Gather around, Pretty Little Liars Fanatics. Let's discuss "Run, Ali, Run."

Join in on the discussion as we ponder over the events in Suits Season 4 Episode 5, including Harvey and Mike's temporary truce, the adventures of Louis and Donna, and more.

Our Days of Our Lives Round Table: debates whether or not Abigail is a victim, if Theresa can be redeemed, and if there's any hope for EJ and Sami after this week's Days of Our Lives.
---