Weeds Review: "Bliss"
at .
One of the main hilarious, yet despairing parts of Weeds is Nancy trying and continuously failing her "jobs". And that would be her role as a mother and even her drug dealing profession.
Throughout last night's episode, "Bliss", we get to see her blazingly fail at both being a good mother and a clever dealer. Really Nancy, after hearing that your first born strips and reads out-loud pages of a book to a pervy middle-aged man, your only comment would be because he does it for the tips? She didn't even bat an eye to this.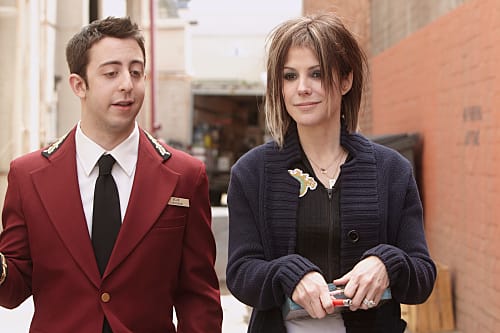 Sometimes I just want to pick that brain of hers and see if there's even a remote chance of commonsense. I get she's trying to make some fast cash buy selling hash, but c'mon! Using the hotel washer as a means to do so? Then instead of saving the cash, she willingly gives it all away.
Sometimes I feel Nancy needs to take a 101 class in practical judgment. And by sometimes, I mean she should sign herself up today!
Shane really hit the nail on the head when he told his mother that she was a just a bad drug dealer. Yeah, over the last seasons the Botwins have managed not to go to jail or get whacked, but how many lives could they have? One day, their luck will have to run out...considering the loss of a couple main characters, do you think it would be this season?
One aspect from last night's episode that really got to me was seeing Silas live the "normal" college life every kid should have the ability to do. Yeah, not everyone gets the opportunity to play Frisbee by day and sleep with co-eds at night, but ignorance is bliss. And up to this point, I don't think Silas ever knew what he was missing.
It was strange for me to get on board the mommy and me train with Shane. It was even creepier watching him discuss kegel exercises while doing aerobics with the moms. I knew their had to be a reason for all this and from the previews for next week, there is. 
Off topic, I love how these women knew the woman that Shane stole the stroller from. Good job just throwing that one liner in there.
I was worried there for a hot second that Andy would have had his finger cut off (he did have his toe bit off one episode), but thankfully all he got was a swift whack on the buttocks or five..
Doug's scenes reminded me vaguely of Dumb and Dumber...which was humorous, but makes me wonder how will he ever get himself out alive from this pickle? It doesn't look like Esteban's guys have any sort of empathy for humans; cats maybe, but not humans.
Overall, last night's episode felt more like a filler than anything else. But, I did love how the episode ended with Nancy telling Andy how she gets sh*t done and the cops catching them red handed with bags full of trimmings. Nicely played.
Until next week, here a few Weeds quotes to help satisfy your weekly cravings:
Andy: This is my Eat Pray Love moment. | permalink
College Girl: What?
Silas: Nothing I just love college so much. | permalink
Nancy: I'm all tapped out.
Drug Dealer: Then tap yourself in bitch. | permalink
Nancy: I cant believe that this is my life.
Co-Worker: It's okay just pray to Jesus and play the lotto. | permalink
Doug: My favorite movie is Cool Hand Luke, but really it's Steel Magnolias | permalink
Nancy: I'm doing this for my family.
Drug dealer: I'm doing this for a jet ski. | permalink
Andy: I need a ten Nance, Nathalie, Nance, Nat. I need a ten Nat. | permalink