The first four episodes of Sons of Anarchy's second season made for quite an exciting beginning. Between Gemma's rape, the AB taking root in Charming, the new porn business and tension between Jax and Clay, it was a blitz of action-packed material that got everyone fired up.
After this week's fourth episode of the third season, "Home," we can all admit that things have opened differently. Show-runner Kurt Sutter and company have been a bit slower, but maybe a little more subtle, in setting up the scene of the third season.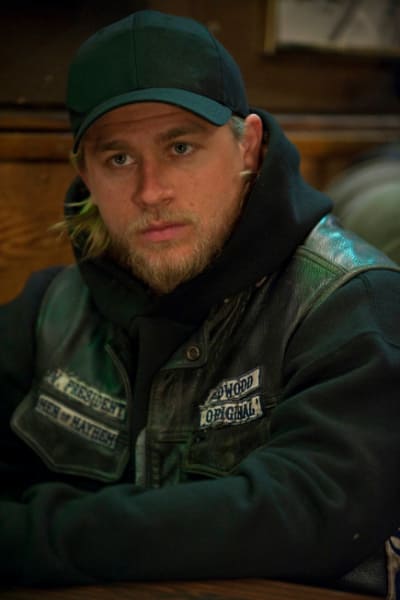 Slower is not necessarily worse though. I have quite enjoyed these first four episodes, and I am really looking forward to seeing where SAMCRO goes from here.
Take for example this week's most important story line; watching as Gemma creeps closer and closer to finding out that Abel has been kidnapped.  Now this was not very exhilarating, but I sure was holding my breath every time the subject came up.
First it was when Jax lied to her about Abel being okay for the 100th time. Seriously Jax, how do you not realize what your lying is going to do to her? Then came the oh so heartfelt moment when Gemma was being such a loving mother figure towards her sort of daughter-in-law.
Tara can not help but burst into tears because she wants nothing more than to tell Gemma about Abel. I also wanted Tara to tell her, for everyone's sake.  For some reason I think that might have been a bit easier to take than the way Clay's old lady did actually find out.
She receives a phone call out of nowhere from Maureen Ashby in Belfast. Gemma has just finished looking all over Charming for her baby grandson and receives a call on her brand new cell number telling her that Abel was stolen a long time ago and is being held in Belfast! Then you have to add to that the fact that Gemma may or may not know that John Teller had a relationship with Miss Ashby, and how could you be surprised that she went down to the ground like Apollo Creed in Rocky IV.
Honestly what a couple of events to endure in what an hour? She cries her eyes out sending her senile father away to a nursing home, then gets out of her mind scared that she can't find her baby grandson, and then getting that freaky call from this Irish woman of her past. What a series of unfortunate events. By the way can we all give Katey Sagal a round of applause for that single crying scene? I'm sure she will get robbed of an EMMY again next year, but boy does she have the goods.
Also in this week's hour of biker gang goodness we had the Irish situation, Tara's need for family, and Clay's hand problem acting up again.
Again, I don't understand much of what these Irish people are saying, but I do know that Maureen is the only one I would trust. Titus Welliver's accent is way too thick for me to be able to figure what is
going on, but my best guess is that Father Ashby and Jimmy O are in a bit of a power struggle.
Jimmy keeps lying to SAMCRO about his knowledge of Abel's whereabouts, but then he goes to Maureen about getting the baby to give back to Jax. What's his angle here? Meanwhile Father Ashby tells Maureen that they need to get in touch with Gemma so they can get SAMCRO's help in dealing with Jimmy. I might be a bit more dense than all of you, but if we're trusting either of them it's Ashby right?
Tara Knowles wants to be a part of this SAMCRO family like it's her job. Well that's funny because she's currently not working at her real job. At first she lied to Jax about what happened to the caregiver, but after realizing she wants to be in good with the family, she admits to killing her. Jax is not happy about this, and the animosity between him and Tara is making me enjoy their relationship even more.
So here is the big question about Sons of Anarchy-Redwood Original. What happens if Clay can no longer ride his bike? Does he lose some sort of power? I'm sure Piney had a much bigger role in the club before he was only able to ride the three-wheeler. Does Clay step down if he can't hit the road with his guys? Or does he just continue to run things from the club? Or how about this? He drives a carrrr! Now there's a novel idea.
Next week is the week. They have to go to Belfast now right? Or does Gemma's episode cause too much concern for them to do anything? Does clay stay and Jax go for Abel? I'll be curious to see how it all shakes out. What do you think?
Other Thoughts
I love when the credits start just after the gang heads out on the road on their bikes.
"Maybe you go red head for a while?" Yes!  Gemma turns back into Peggy Bundy for a season? Awesome.
How did none of the bullets hit any Sons when they were hiding in that two square foot closet?
"Why in the Hell are you doing this?" Piney: "'Cause we're the good guys." Yes you are Piney. Yes you are.
Katey Sagal performed yet another fantastic song for the final moments of this episode. This time it was "Bird on a Wire."
Follow this link for more Sons of Anarchy quotes and comment below ...
Dan Forcella is a TV Fanatic Staff Writer. Follow him on Twitter.