I'm still waiting for something entertaining to happen on last night's season finale of Hung, "Even Steven." A few of the characters' lives are currently in flux, but for my money, I'd bet that things return to the status quo for season three.
Ray sort of quit his life as a male prostitute with Lenore, but now that Jessica has decided she needs to be alone, give it a week or so and Ray will be back turning tricks for that quick buck.  That's how Hung has worked so far and I don't expect it to be any different next year.  The more things change, the more they stay the same.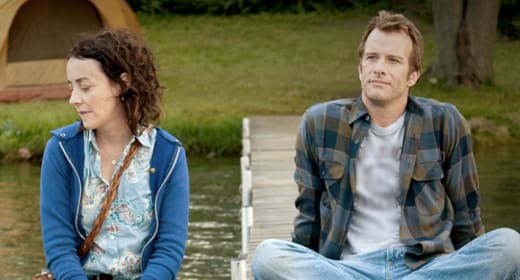 Jessica is the only one on this show that I can get behind, especially after this finale.  She showed actual growth in her decision to not get back with Ray after deciding she needed space from Ronnie.  She took what her kids said to her about always needing a man in her life to heart, and is now out to be her own woman for a while.  Good for her.
Tanya continues to irk me, no matter what she is doing.  She's trying to get her life together at the end of this season, as she asks her mom for her money from the dinner back.  She's prepared to give back what she owes to Francis, and prove to Ray that she's a good person, but I'm not buying it as a change.  We've seen her waffle from decent to crazy before, so I suspect her to go nuts the next time we see her.
What will the third season bring?  Will any of these changes made by the characters stick?  Can Hung be a show if Ray isn't a prostitute?  I absolutely think so, but you never know.
Other Thoughts:
That was just way too weird when Damon put his hand on Tanya's leg.
Speaking of weird, Ronnie in the back of the car with the HJ?  Come on now, we didn't need to see that.
Ray's baseball team is in the playoffs apparently, and so my hatred for any talk of sports on this show continues.  Oh, your team made it to the playoffs because you and Mike care more than any other coaches?!?  Then how come you never ever spend any time thinking or talking about it?  Every single high school coach I had was more into it than you Ray.  You must have some really good players.
The montage near the end of the episode was some of the best work I've seen on this show.
Dan Forcella is a TV Fanatic Staff Writer. Follow him on Twitter.