For anyone who might have had fears about Hawaii Five-O, last night's episode should have put those worries to rest, as "Ohana" was a solid follow-up to last week's premiere.
Allow me to start with a big thank you to the writers and producers for not using numerous gun fights and explosions to carry the series, instead relying on the actual on-screen.
As I discussed and hoped for last week, the show reduced the gun play down to two fights, one that opened the show and one that ended it. This was the perfect amount; it showed great action but still allowed for more character development. Additionally, we got to see a lot of both guest stars, Ivana Milicevic and Peter Stormare.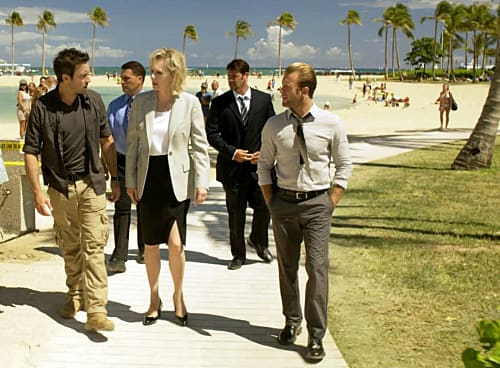 With fewer weapons blazing, we watched the cast stretch their legs in this episode and really start fleshing out the characters.
Alex O'Loughlin and Scott Caan continued to have wonderful chemistry and banter. From Axel Foley with Rosewood/Taggart to Beckett and Castle, having good chemistry and banter is one the key parts of any show or movie that is crucial for success. That being said, I do hope they will carry this outside the pair sitting in the car. That could get old quickly.
Moreover, Kim and Parks both expanded their range. Chin coming to terms with guys he trained not speaking to him, and Kono learning there is more to being a cop than walking across the stage, were both strong seeds for character development.
The writers also did a great job of putting in a subtle nod to the original series.  Danno's insistence that proper detectives wear a shirt and tie was a wonderful reference to Jack Lord (Steve McGarrett) and James McArthur (Danny Williams), as they always wore impeccably clean suits and ties.
This episode really came down to the last 10 minutes. When Kono walked out of the locker room after missing her graduation and not only saw the whole team there in the full dress uniform, but also received a gift from each, I realized that I am completely hooked on this show.  Action, comedy, warm fuzzy feelings... how could I not be?
Jim G. is a TV Fanatic Staff Writer. Follow him on Twitter.