Don't hate me, Gleeks. But this was a terrible episode.
There was no plot, no flow, no attempt at storytelling whatsoever. Heck, "Brittany/Britney" wasn't even an episode of television. It was mostly just a mash-up of music videos, as various Glee characters did their best Britney Spears imitations.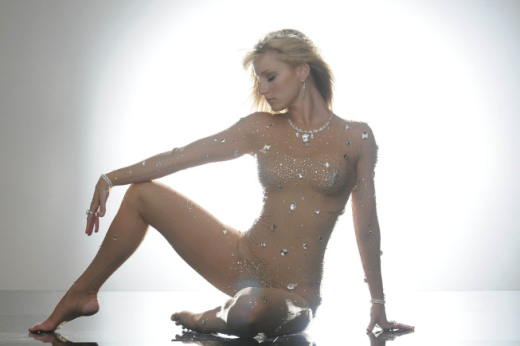 For about 30 seconds, it was very cool and impressive to see how well Heather Morris could pull off Britney. But about halfway into "I'm a Slave 4 U," I realized: I don't wanna see these actors impersonate a famous pop star; I wanna see them act as the characters I've grown to love, singing something that relates to whatever they are thinking or feeling, based on current storylines, relationships, etc.
The best Glee numbers connect the material to the characters in a very personal way. But most of these covers existed solely because there actually was a Facebook campaign for a Britney Spears episode. For perhaps the first time in television history, it's as if the fans wrote an episode - and the result was a mess of musical numbers that never came together at any point.
In its previous tribute episode, "
The Power of Madonna
,"
Glee
didn't lose track of its storytelling. There were actually a few major developments, most prominently Finn sleeping with Santana and Rachel deciding not to do the same with Jesse. Each song helped to move the plot forward.
But, ironically, Rachel's rendition of "The Only Exception" was the only example of a similar single this week... and it was the only non-Britney cover of the hour! Moreover, every cameo of Britney herself felt out of place and forced.
Still, thanks to one number and a few memorable one-liners, there were some highlights:
The group's performance of "Toxic" was one of the show's best to date. Ideally, this would have been the only Britney number. The episode could have kept the premise of Will refusing to take on Spears, only to eventually cave and show off for Emma in the same manner.
Sue taught Becky how to make a citizen's arrest? Amazing.
Every line out of Brittany's mouth was funnier than the previous one. ("This room looks like that room on that spaceship when I got probed.")
What did you think of the episode? Were you happy to just sit back and let the show pay tribute to Britney Spears for an hour, or would you prefer a more organic feel to songs that fit into the grander story?

Matt Richenthal is the Editor in Chief of TV Fanatic. Follow him on Twitter and on Google+.

Tags: Glee, Reviews