"Look, you got what you wanted, I'm officially out of control." 
Vince's somewhat forced downward spiral finally hit rock bottom on the season finale of Entourage tonight and the reason for its painful season-long buildup finally made sense.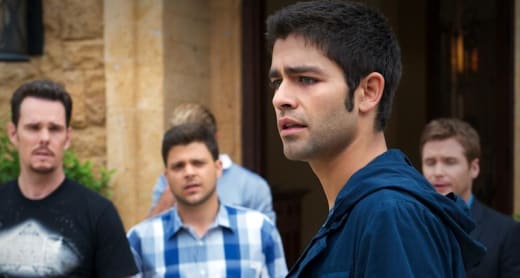 It's a shame it took nine episodes to deliver this week's phenomenal "Lose Yourself."  After spending nine weeks watching Vince date the world's worst actress, we finally see why Sasha Grey was brought on screen.
Clearly for her butt in that cover shoot scene. Oh, or the fact she triggered Vince's bad ass fight during Eminem's party that would lead him to the hospital and possibly arrested for cocaine possession.  Sasha, your horrible acting has officially been forgiven... assuming you don't appear during the final season.
Drama proved once again why he's become our favorite character.  When we first met Johnny during season one, we couldn't stand the guy.  Now, we watch the show for him.  With Johnny's Bananas officially secured, Drama was able to move on to become a part of the main plot.
From his A&E style Intervention to getting his baby bro's back, Johnny secured himself as not just our favorite obnoxious comic relief, but as just an amazing character.  Oh and props to Vince for finally growing some balls and delivering his first truly amazing line: "i know you all need me, but I'll call you if I need any of you."
Just when you thought our Entourage review couldn't be any more positive, we're even going to applaud Mark Cuban.  Sure Turtle's Limo business gone Tequila storyline has been beyond annoying, but at least Cuban and Turtle's Wallstreet references had us cracking up.
It was great to see Terrence again and even better to see him outside the role of Ari's old boss and instead as Sloan's father.  Watching the man belittle the already tiny E as he basically called him a slacker and a moocher before asking him to sign a prenup was great.  Finally something exciting in the E storyline.  Hopefully we'll actually get to see him try to take down Murray and make something of himself during Entourage's mini final season.
Now on to Ari.  Wow.  Definitely never saw Mrs. Ari leaving him.  Certainly not because of his insults towards women.  Cheating?  Maybe.  But because his a misogynist?  Come on, that's Ari.  There's absolutely no way this woman didn't know this about him prior to marrying him.  So she's embarrassed.  Boohoo.  At least we'll welcome the drama and some change next year.
Now on to our cameo awards.  With so many shameless ones, we're going to have to give the Cameo of the Week to John Cleese just cause damn that dude's tall!  Worst cameo will be a shared between the pointless appearances by Drew Brees and Ryan Howard.  At least Aguilera and Eminem didn't feel so forced into the episode as their songs played.
Overall, we thought it was an stellar season finale with plenty of unanswered cliffhangers for next season.  I know, we just called an episode from this season's Entourage stellar.  Now we're curious, what did you all think?
Eric Hochberger is the programmer of TV Fanatic, so please forgive his mediocre writing. His programming is far better. Follow him on Twitter and/or email him. Just don't request threaded comments. They're coming.