This week's episode of Chuck, "Chuck vs. The Suitcase," was a whole lot of fun. 
It did not progress the mystery of Chuck finding his mother at all, but standing on its own, this week's hour was extremely engaging.  We returned to the status quo of what Chuck really is, and it felt a lot like something we would have seen in seasons one or two.
Let's take a look at how the Chuck triple threat worked its magic: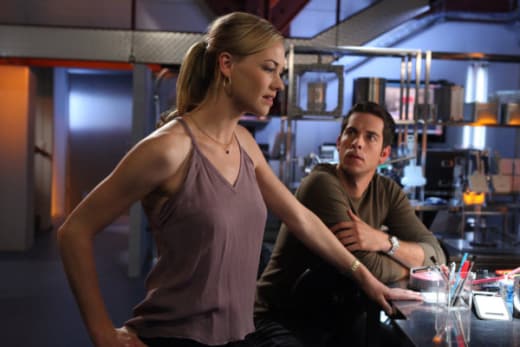 Comedy
I could see how some people might find Morgan's stylings a bit hard to take at times, but I think this guy is one of the funniest on television.  His speech to General Diane - whoops, I mean Beckman - on why the Buy More wasn't working effectively was definitely a highlight.  Seriously, what kind of place would it be without hazard spills and surly employees?
Speaking of our favorite arsonists that were previously living in a VAN DOWN BY THE RIVER  (well, maybe not by a river, but you get the idea)...  I'm not sure which was funnier: these two guys down on their luck naming their pet rock Bruce, or them needing time to relax after being back at work for only one minute.  And their entrance to Feed My Frankenstein by Alice Cooper?  Classic, even if Jeff's shirt isn't all the way unbuttoned.
Action
We were all witnesses to a truly epic girl-on-girl fight that Chuck is known for.  Although I don't know if it tops the Sarah vs. Nicole Richie in the shower brawl, Sarah and Sofia on the runway was pretty awesome!  Best move?  Sarah pulling the Marshall Law back flip.  Worst move?  The jump punch that put Sofia out of commission.
There was also Chuck getting into the gun fight in the dressing room, Sarah punching out The Incredible Hulk and Chuck getting held up by a naked Sofia in her closet.  A lot of action to go around this week.
Heart
Of course, all of the heartfelt moments were left for the end, but they were all great.  Let's start with the one you probably weren't thinking of: Morgan becomes manager of the Buy More.  Seriously, after three long years, Morgan is now the manager of the Buy More!  You have to feel super excited for him, right?
The title of this episode is referring to Chuck's battle with the fact that Sarah has yet to unpack at his house, even though they've been there for eight months.  "Spies don't put down roots, it's a rule," John Casey explained to Chuck, but in the end Mr. Bartowski was right when he rationalized that it was more of a suggestion or a guideline.  By episode's end, Sarah unpacked her things and the happy couple spooned the night away. 
Just don't bring up marriage and children with Sarah, because just before the credits hit the screen, her frightened face said it all.
Will the hunt for Mrs. Bartowski come back into play next week?  How will Jeff and Lester being back at the Buy More change anything?  Does Morgan let the power go to his head?  And what horrible thing is going to happen to Alex now that Casey is putting in the effort to be there for his daughter?
Other Thoughts:
I love the disparity between the fact that they go on these super serious spy missions, but worry about things like Sarah not unpacking.
Ranking the guest star performances: Isaiah Mustafa was solid as the perfect Buy More employee.  Not as great as his Old Spice ads, but good.  Lou Ferrigno was just fine as the body guard, but what in the world was the point in having Bronson Pinchot in this episode for two seconds?
Spiderman kiss?  No Chuck, you are not Seth Cohen.  It was nice to see Chuck as the second Josh Schwartz series to use this as a gag.
Jeff to Ellie: "Rumor has it you're pregnant.  Is there room in that womb for two?"  Unbelievable.
With Morgan in as Buy More manager, where does that leave Big Mike?  Is he ever coming back?
This was the second great episode of the television season with "The Suitcase" in the title.  A few weeks back, the Mad Men episode "The Suitcase" was fantastic.
Dan Forcella is a TV Fanatic Staff Writer. Follow him on Twitter.