The sold-out Blue Bloods event at the Paley Center in NYC had people standing in line on Wednesday. 
Surprise thunderstorms and 90-degree heat weren't enough to scare off fans of this new CBS police drama, which stars Tom Selleck and Donnie Wahlberg.  Cat calls and whistles were heard as the cast was introduced.
Clearly, there is already excitement surrounding this show, even though the pilot won't air until tomorrow night  Those of us lucky enough to attend got the privilege of an early showing.  Although I can't give away too many details (the Paley Center hit squad may track me down and confiscate my laptop as punishment), I can say that you do not want to miss it.  Five minutes into the pilot, I was already hooked.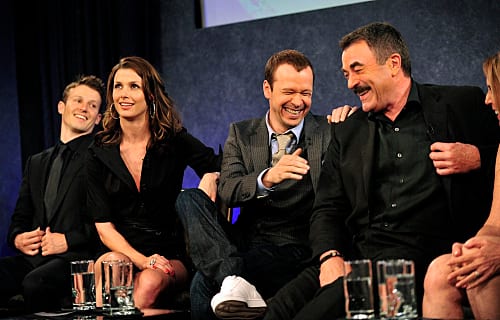 Blue Bloods is a different type of cop series.  Executive Producer Leonard Goldberg says his favorite TV shows have always been "police shows and family dramas.  Why not combine them and do a show on a police family."  Hence, Blue Bloods was born.
"The show is about the moments between these people... you'll remember the small moments between characters," Goldberg said.
Selleck, who plays Police Chief Frank Reagan, was asked what drew him to this series and replied that "I really liked the script." Once he saw who was lined up for the cast, the veteran actor said it was a "no-brainer" to sign on.
The cast already feels like family and it is never more apparent than in the Sunday dinner scene on the premiere, are curring scene destined to be a cornerstone of the show.  Len Cariou, who plays Henry Reagan, the family patriarch, said of the set-up: "Dinner on Sundays... everyone comes, on pain of death." 
Executive producers Mitchell Burgess and Robin Green say the sparks between Wahlberg's character (Danny Reagan) and on-screen sister Bridget Moynahan (Erin Reagan) were a great surprise and enhance the tumultuous brother/sister relationship.  However, the chemistry between the entire cast is obvious. 
Selleck and Wahlberg joked back and forth easily on the panel, as  Wahlberg said: "Tom reminds me of my Dad.  I have to really respect this man."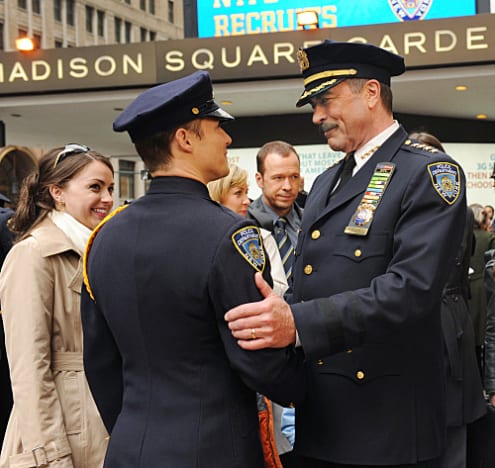 Blue Bloods is filmed on location in New York City, something the city embraces so much that real life Police Commissioner Ray Kelly attended the Paley Center event.
NYC is the equivalent of another character in this story.  Goldberg points out that it "cost a great deal of money to shoot in New York," compared to filming in L.A. or Canada.  He says CBS President "Les Moonves believed in the show and in New York being a character," while adding: "The pizza is great!"
But there are challenges to filming in New York City streets.  "Someone yelled cut and the whole scene shut down," Wahlberg laughed.  He also shared that an elderly woman using a walker wandered into a dangerous traffic scene they were filming: "She starts yelling at me, 'This is a free country.  Shut up and mind your own business.'  Only in New York."
Blue Bloods airs tomorrow night on CBS at 10 p.m. Return afterward for a detailed review of the premiere on TV Fanatic!
C. Orlando is a TV Fanatic Staff Writer. Follow her on Twitter.