Bachelor Pad Season Finale Review: It Getz Good!
Steve Marsi at .
Bachelor Pad saved its best for last if nothing else. The season finale had so many twists and turns, it was actually sort of interesting and we were happy with the result.
Three couples were still in contention at the start - Jesse Kovacs and Elizabeth Kitt, Kiptyn Locke and Tenley Molzahn, and David Good and Natalie Getz? Who would win?
Let some shameless cross promotion for Dancing With the Stars decide!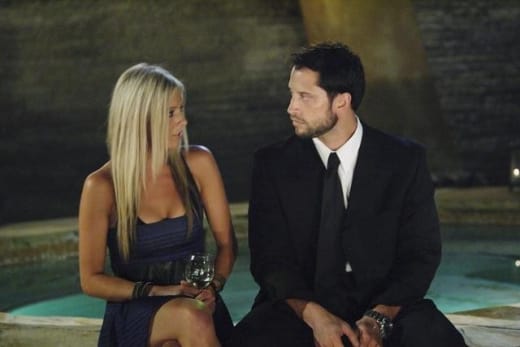 Could Dave Good and Natalie Getz pull off the upset?
The couples must learn ballroom dancing, taught by DWTS pros, then perform for judges - Melissa Rycroft, Jake Pavelka and Trista Sutter. To the winner go the roses.
Kiptyn and Tenley win. Jake is still an absolute stiff, and Melissa still looks like she can't possibly be pregnant. Next up is yet another classic rip-off of Big Brother.
As a reward for winning, not only is KipTen safe, they choose right then and there who will go with them to the finals. The couple they elect to take with them is ...
Dave and Natalie. Thank goodness. We couldn't take it anymore if we had to hear Elizabeth melt down or refer to her man as "Kovacs" one more time. She's painful.
On a side note, why do they always say the amount of money they're playing for? We realize it's $250,000 guys. That would have been a tremendous drinking game.
Anyway, now it's up to the Pad castoffs to decide who wins, and Dave and Natalie took this relatively easily. Before all the votes were even cast, they had a majority.
It makes sense in a way. Natalie and Dave have their flaws but are a little more "real" than KipTen in that you know where you stand with them. They're more liked.
Now for the ultimate twist, a spin on the prisoner's dilemma. In separate rooms, Dave and Natalie must choose whether to keep the cash or share it. However ...
If they both choose to keep it, they lose it ALL.
If one chooses to keep it and the other wants to share, the sharer is SOL. If they both choose to share, then they do. That's what happened, too, which was nice.
We liked that ending as it provided a little suspense, especially with these two. There was at least a 5-10 percent chance Natalie in particular would pull a fast one.
Were you happy that Natalie Getz and David Good won Bachelor Pad? Would you have preferred one of the other couples? Tell us what you thought.
Steve Marsi is the Managing Editor of TV Fanatic. Follow him on Google+ or email him here.