Naomi is a mess, Annie is a free woman and Adrianna might have a singing career ahead of her after all.
Indeed, the third season premiere of 90210 offered up many storylines for fans to chew on - and that's exactly what a TV Fanatic Round Table is for! Join us below as staff members analyze various aspects from "Senior Year, Baby" and don't forget to discuss it with fellow fans in our 90210 forum...
Can AnnaLynne McCord pull off Naomi's storyline?
M.L. House: No. I have a better chance of ending up with Kelly Taylor. McCord isn't terrible at delivering snarky lines and playing the snotty bitch. But she just doesn't have the gravitas needed for this layered, serious role. I find myself laughing every time she cries.
LJ Gibbs: The quick, easy answer is no. But I'm trying to look past McCord and focus on the plot itself. Kudos to the show for taking a risk and trying to deal with such a heavy issue. It has a chance to send an important message to victims of sexual abuse.
The Barnacle: Yes. Compared to Shenae Grimes, she's an Emmy Award winner.
Who was Annie's lawyer?!?
M.L. House: Matlock? Perry Mason? Matthew McConaughey in A Time to Kill? Annie killed a man, lied it up, covered it up, finally admitted to the crime... and was punished with house arrest in her giant mansion and had her records sealed?!?!?!? Sign me up for that counsel.
LJ Gibbs: Sigh. Must we really discuss the hit-and-run storyline? The show clearly wishes it never existed, so I prefer if we could do the same. I really am in shock that we never even saw the consequences of Annie's actions.
The Barnacle: Forget her lawyer. I can only imagine that Steve Sanders came back to town and paid off the judge.
Is Oscar a welcome addition to the cast?
M.L. House
: Not like this, no. I'm happy to see more of Ivy's family and learn more about her background. But in the course of one episode, we meet Oscar, we see her fantasize about him, we see him hit on Ivy and then sleep with her mom. Seems like another random, rushed
90210
development.
LJ Gibbs: Yes. You did see him with his shirt off and listen to his accent, right?!?
The Barnacle: No. It's way too early. Dixon and Ivy just got together - remember, on the season finale, he made out with Silver - and already the show is tossing out the L word between them and giving them a contrived obstacle. Can't we let them just date for awhile first?
Would you have swiped Javier's song book?
M.L. House: Probably. What would have been the alternative, let the songs go to waste?
LJ Gibbs: It's really not a question of whether or not I'd do it. I don't watch shows to wonder how I'd react in certain situations. I watch them to get to know the characters well and this fits into Adrianna's struggles in life.
The Barnacle: Absolutely! That guy is a total douchebag! The music industry is cutthroat. Get in there and get dirty, Adrianna!
Will Teddy ever play tennis again?
M.L. House: Nope, he's switching teams... if you know what I mean!
LJ Gibbs: I doubt it, but he'll still swing other guys' rackets... if you know what I mean!
The Barnacle: No, yet look for him to still get plenty of use out of balls... if you know what I mean!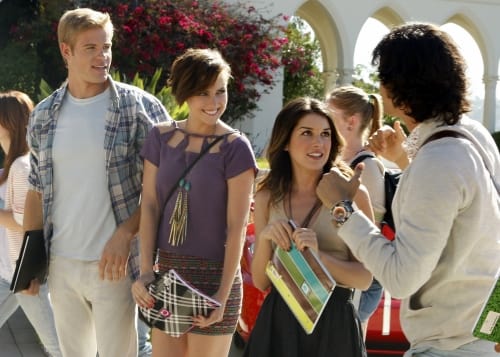 Matt Richenthal is the Editor in Chief of TV Fanatic. Follow him on Twitter and on Google+.