Weeds Season Premiere Review: "Thwack"
at .
As the end of summer is upon us, one of my favorite shows is brought back to life with it's sixth season premiere.
"Thwack" takes off right where season five left off - Shane, at the pool, holding the stick... err, mallet.
This exactly proves why I love this show so much. It always swings us right back into the thick of things - no fast forward here, folks. We learn exactly what emotions take place after the crazy finale from the season before.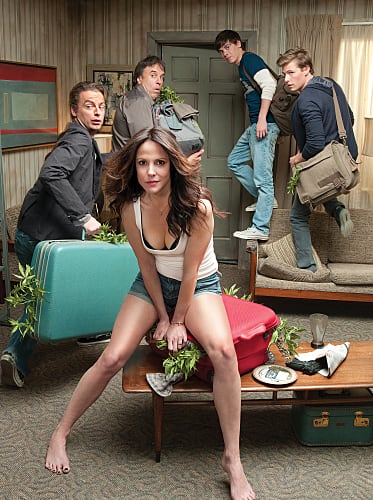 Nancy does what any mother would do after she comes to terms with her son being a murderer - she flees. But, of course, she stops at home to pick up her necessities (like shoes). This personality trait Nancy has really bothers me. She left no time for her children to get any of their stuff, but made sure she had everything she needed.
I guess, this just makes evident how selfish of a person she really is. Don't get me wrong - I've always been a fan of the crazy lady, but after five seasons of her completely erratic behavior, I don't think she really puts much thought into her own actions and how it implements the lives of those around her.
Shane clearly showed us all how really mentally disturbed the boy is. Since the beginning we knew of Shane's different personality - but murdering someone and having no remorse whatsoever indubitably shows us that this kid is a psychopath.
How creepy was the ending scene where Shane stared at his mother through the rear view mirror?
I literally cringed out loud.
Now that we know Celia will not be making it back this season - what will that mean of her family? Will any of the Hodes clan come back?
For me, the one person I miss dearly would be Conrad. I know it has been quite some time since he has been on this show, but maybe the writers can bring him back! Maybe he can help save Nancy from Esteban!?
Lupita has to be one of my favorite characters. She always pops up randomly and is constantly stealing from Nancy. I love how she exactly knew where Esteban hid a roll of money. Somehow, I doubt this will be the last we see of her.
It was great to see Andy once again following Nancy with his tail between his legs. We all knew that once the chips fell who he would choose to be with - but, having him have to pick between his fiance Audra and Nancy - with the Christian extremist tied up was just comical. Sometimes I wish these two (Nancy and Andy) would just get it on already. It has been over five years now - why wait any longer?
This show has always proved to be one wild ride. Everything about it screams shock value and I must admit I love every second of it! What did you think of the season premiere?
Until next week, we leave you with a few of our favorite Weeds quotes from last night's episode:
Shane: I liked Audra - but, you'll get over it. Time heals all wounds, well, I guess not all wounds. | permalink
Nancy: I saved you - how about a thank you.
Audra: How about a f**k you, bitch. | permalink
Lupita: Are you a killer?
Shane: I don't like labels. | permalink
Lupita: I don't touch nothing - I'm just a curious person. | permalink
Shane: She was gonna kill us so I popped the bitch. | permalink
Silas: You serious?
Shane: Serious as dads heart attack. | permalink
Lupita: I work for you - I'm always ready to flea. You should know that. | permalink
Nancy: Shane - Don't let go of that stick thing.
Shane: It's called a mallet. | permalink
Shane: It's cool how the lights change color. Wonder if it's a salt water pool - doesn't sting your eyes like chlorine. Not that that's her problem. | permalink