The Real Housewives of New Jersey Review: "Your Naples are Showing"
Steve Marsi at .
One more episode left!
Sadly, that's the best spin we can put on what has become a bitter and horrifying season of The Real Housewives of New Jersey. Waiting for the finale to come so it'll end.
Last night, the Jersey-ites dock in Naples. Teresa's whiny daughters are excited. Shirtless Joe bitches as he kicks their 10 million bags down hallways and out of elevators.
Teresa says he is pissy because he's away from his businesses. By "businesses" she means bankruptcy and "half-empty bottles of booze in the basement at home," natch.
The gang boards some of those obnoxious tourist buses, at which point Teresa's girls break down. Caroline shoots Teresa the snake eye but it is unfortunately ineffective.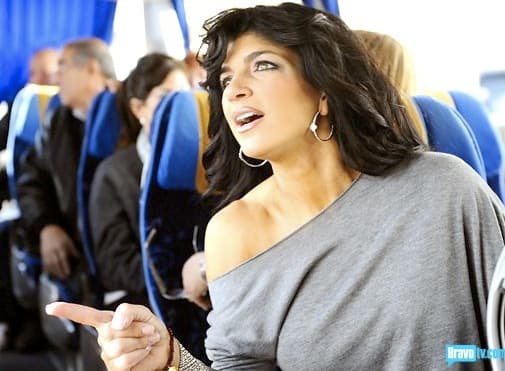 You're so painful, we're actually excited to see Danielle Staub!
Back in the states, Prostitution Whore and the decrepit lair she haunts are filled with her recollections to her poor, defenseless daughters about her awful fight with Kim G.
At one point Christine uses the word "ass" and Danielle gets bent out of shape. "You're too beautiful and too spiritual to speak like that," says the Danielle Staub Raw star.
Discount Danny listens as Danielle claims Ashley "has terroristic tendencies." Danielle is positive she will be attacked by Ashley in the parking lot. It's just a matter of when. 
Obviously, Danielle has a private investigator come over so he can begin sleuthing around the back yard and doing whatever else those people do to get paid for nothing.
Danielle's quest to find her biological mother comes with certain caveats: no drug addicted or homeless biological parents need apply. Just rich ones, hopefully. Fingers crossed.
Follow the link to keep reading our recap of The Real Housewives of New Jersey ...
Steve Marsi is the Managing Editor of TV Fanatic. Follow him on Google+ or email him here.