The Real Housewives of New Jersey Season Finale Review: Danielle Will Get the Respect She Deserves!!
Steve Marsi at .
The season finale of The Real Housewives of New Jersey began at Teresa's house.
There, the clan feasted upon bowls of olive oil with hunks of Parmigiano-Reggiano drowning in it. They discuss, of course, the Prostitution Whore and the case against Ashley, the moronic daughter. Caroline is getting all hot and bothered about this stuff. 
She, and by she we mean a producer, has the brilliant plan that she should go set things straight with our beloved Danielle. Caroline doesn't recall that every other cast member has tried this only to have their various encounters with Danielle go spectacularly awry.
Caroline says she'll don a bikini and dive into the mud pit with the Prostitution Whore as long as her homies have her back. In a manner of speaking of course.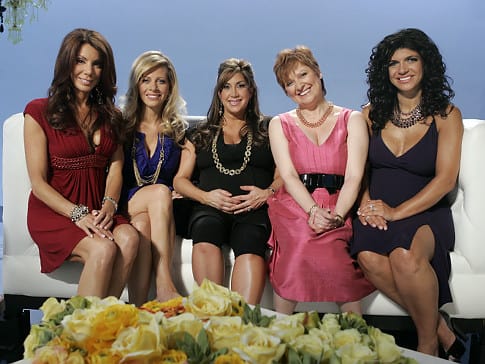 Back at her moldering cave, Danielle gets Caroline's text. Caroline has written, "I'd like to put an end to all the nonsense," and the Prostitution Whore doesn't like that.
But hey, Danielle Staub is a strong, independent lady now and she's going to this little get-together, come hell or high water. She reminds her daughters to trust her.
They've been praying, after all. What does this prayer sound like?
Danielle: "Dear Gawd, please flip Dina's Mercedes into a ditch. And give Caroline the flesh-eating virus. And have Jacqueline get run over by a freak escape bullet train. And let Teresa's daughters cannibalize her. Oh, and please make my biological mother an heiress. Amen."
Daughters: "Dear Gawd, please send Child Protective Services to our house right now."  
In Danielle's own words, "I'm not in fear no more." So well put.
Her daughters roll their eyes as Mommy Dearest declares she will be heading into battle. "I will get the dignity and the respect that I deserve," she declares.
Of course you will, honey! Just like you did at the table-flipping dinner. 
Just like you did when you met with Dina at the restaurant. No, just like you did at the baby cancer dinner thing! No, wait!,Just like you did at the fashion show!! NO, HOLD ON, just like you did when you took Ashley to court!!! Oh, screw it.
You'll never get the dignity and respect you deserve, Danielle, because you deserve no dignity and respect. You deserve to be thrown face-first down into a sewer.  
Can't get enough RHONJ? At least for the next five minutes? Follow the link to continue reading our review of The Real Housewives of New Jersey season finale ...
Steve Marsi is the Managing Editor of TV Fanatic. Follow him on Google+ or email him here.