Week in and week out for the last two seasons, Entourage has been desperately trying to figure out what to do with Turtle.  Last season we sent him back to school and awkwardly paired him with Jamie-Lynn Sigler.  No, we don't care if the actors dated in real life, that's the most mismatched pair on television... ever.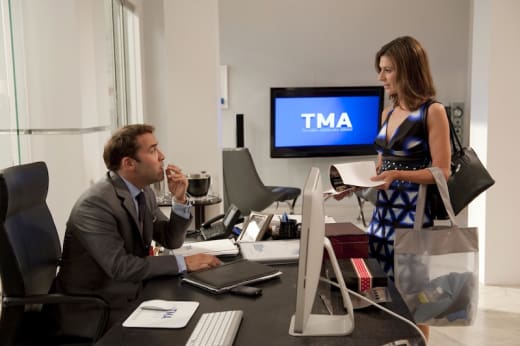 This season?  The short little furry guy continues to score chicks way out of his league.  So out of his league that even the girls seem to admit it on the show.  Oh and some lame tequila subplot that somehow leads to Vince's demise.  What!?
Now, in the most wildly, ridiculous and unbelievable Turtle subplot and the story from which the episode got its name, "Hair," Turtle freaks out when a girl has no hair... downstairs.  Apparently every girl he's ever been with, including Ms. Jamie-Lynn have at least had a landing strip.
That's right, we're expected to believe that after spending nearly a decade of sleeping with Vince's runoff of sluts and prostitutes that not one of them has shaved.  No wonder why Alex thought this kid was a virgin.  That's it!  Turtle was simply Jamie-Lynn's beard and he never even went down there.  Mystery solved.
Oh and as far as the rest of the episode, it was good to see the return of Billy Walsh, even if he looks like he stepped out of a Gap ad.  It's nice to see the honesty hasn't gone away with the alcohol and drugs and someone finally said what we were all thinking: Drama is too ugly for his own show.  We're hoping Billy can work with E and Drama and eventually lead to yet another hilarious explosion of his.
Speaking of blasts from the past...
... we welcomed Amanda Daniels and her extremely inappropriate dress as she came into Ari's office to discuss a sexual harassment suit.  Seriously, couldn't we just get a picture of that and point to Exhibit Irony in the courtroom?
As the law suit fizzled out and the tapes leaked online, we're curious to see the impact on Ari's business next week. 
Oh and I guess technically the major cliffhanger was left with Vince laying naked, passed out by the pool.  OMG.  Is he dead?  Obviously, no.  But his career?  Possibly.  How many times do we need to ride the rollercoaster that is Vinnie's career?
Now for our favorite Entourage quotes from the episode:
Ari: E, I'll call you in an hour, make sure you're dopplegangbanger stays off the line. | permalink
Billy; You seem angry, Drama.
Drama: I've always been, Billy. Only now, I'm drunk too. | permalink
Ari: I don't care if Justin Bieber calls and wants me to negotiate the rights to his virginity, I don't want to talk to him. | permalink
Eric Hochberger is the programmer of TV Fanatic, so please forgive his mediocre writing. His programming is far better. Follow him on Twitter and/or email him. Just don't request threaded comments. They're coming.