Season Five of Brothers & Sisters picks up a year after Robert was killed (presumably), Holly was injured and Saul was revealed to be HIV positive. That we know.
What happened to the characters between then and when the show resumes September 26? That's been a mystery until now, but is starting to become clearer.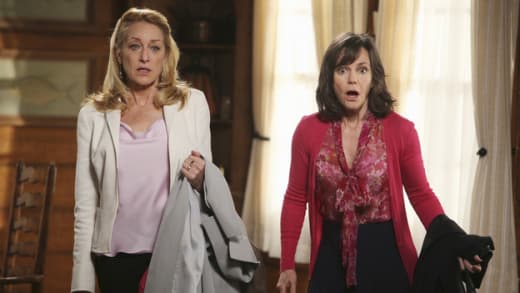 "I can tell you that the year brought a lot of changes," Brothers & Sisters executive producer David Marshall Grant says. "Obviously a year is going to do that."
"I think that we're taking things based on that accident. That's where it all started in terms of where we have to go back to and I think the premiere does that."
What happens to each character specifically? Let's break it down:
Nora
: She tries to get out of the house and create a life that doesn't revolve around the kids. She gets a job as a florist. Of course, she's always going to be a mom first, and tries out for a radio show called "Ask Mom," where she runs into rival
Debra Monk
.
Kitty: She has been going through an identity crisis and is looking to reinvent herself. She's been hiding out at Ojai trying to figure out who she is beyond a politician. There, she meets her first romantic interest post-Robert - Jack, played by Jeremy Davidson.
Sarah: She is still happy with Luc, but dealing with Paige. She's also trying to figure out what to do about the new water geyser they discovered at Ojai, and deciding whether to sell the land instead of using it for the family business is bound to cause conflict.
Luc: Luc is still working on his art, until, wait for it ... he becomes an underwear model! When you cast Gilles Marini in a role, sometimes art has to imitate life.
Saul: As was disclosed in the season finale, Saul is HIV positive. He's totally healthy, but dealing with what it means for him. He's also dating Stephen Collins.
Kevin and Scotty: Bobby Soto has been cast ... as their possible foster son. They put a lot into the surrogate, which apparently doesn't work out. Now what?
Mateo, a troubled teenager who Kevin meets at his law practice (he's back to work), may be the son they never had. This could go in a number of directions.
Justin and Rebecca: Their relationship is in a rocky place, since he went to Haiti. When he comes back, their marriage is clearly in a very problematic place."
"I think we're going to watch Rebecca and Justin come to terms with how to move on from each other," says Grant, hinting at Emily VanCamp's exit from B&S.
Tommy: He will not appear in the premiere, but his story will be wrapped up in dialogue. He's headed back to Seattle, although he may return to L.A. ... again.
What do you think of these Brothers & Sisters spoilers? Which story line are you most excited for? Can the show make the time jump work? Comment below!
Steve Marsi is the Managing Editor of TV Fanatic. Follow him on Google+ or email him here.