Airing on a network responsible for Mad Men and Breaking Bad, Rubicon is being hyped as the next great AMC drama.
It will officially premiere on August 1, but we've seen a sneak peek at the pilot episode and aren't ready to anoint it with must-watch status just yet - but the series is off to a fascinating start.
While conspiracy thrillers are making a comeback on the small screen (cases in point: the now-canceled FlashForward and the sure-to-be-awful The Event), Rubicon stands out... by not trying to stand out.
There are no flashy special effects, no tricks of the camera, no overly confusing developments or mysterious happenings that are clearly meant just to confuse the audience into tuning in for more information down the line.
Instead, the show grounds its story in its main character, played by James Badge Dale. His name is Will Travers, he works at a federal intelligence agency and he's immediately interesting for two reasons:
He's smart.
He's sad.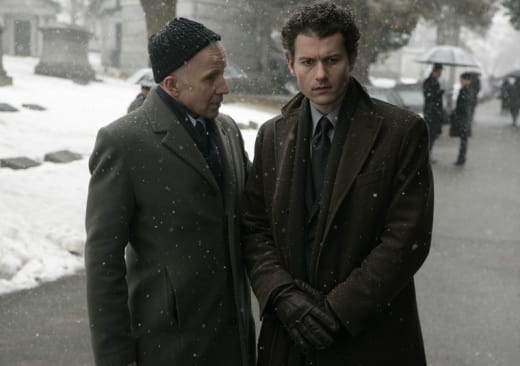 These wouldn't necessarily be the traits a viewer would look for in a show's protagonist, but Dale sells them perfectly the moment we meet him. He enters his office, frazzled and downtrodden, and comes up with a seemingly impossible crossword puzzle answer as soon as his secretary poses the question to him.
Regarding the sadness, we soon learn why Dale scarcely ever breaks into a grin: his daughter and wife died on 9/11. He was supposed to meet them at the World Trade Center, but he was late. As a co-worker says, Will is never late for anything anymore.
With his mind always adrift on either his lost loved ones, or the difficult codes and challenges of his job, life seems to be passing Will be. This is the life he's led for years, as evidenced by the fact that he's forgotten it's his birthday.
But the death of a colleague/mentor/family member shakes Will from his stupor a bit, especially as he starts to piece together clues that point to something a lot greater than a train accident at play.
To
Rubicon
's credit, it doesn't try too hard to suck the viewer in. There's no out-of-nowhere, jarring scene to close the episode. We simply learn a tad bit more about what's been clear all along: Will is right, there's a significant conspiracy going on.
But the show is intelligent enough and confident enough to not rely on that mystery as its sole reason for existence. Instead, it's given us a layered main character, battling a few inner demons, forced to open his eyes to what may have been surrounding him for years.
I won't tune in to the next episode to find out what the conspiracy is all about; I'll tune in to watch how Will unravels it and how it impacts him. Such character development and interest is the mark of a very good show.
Matt Richenthal is the Editor in Chief of TV Fanatic. Follow him on Twitter and on Google+.